Last Market in the Park for the summer this week
Posted on August 24, 2023 by Ryan Dahlman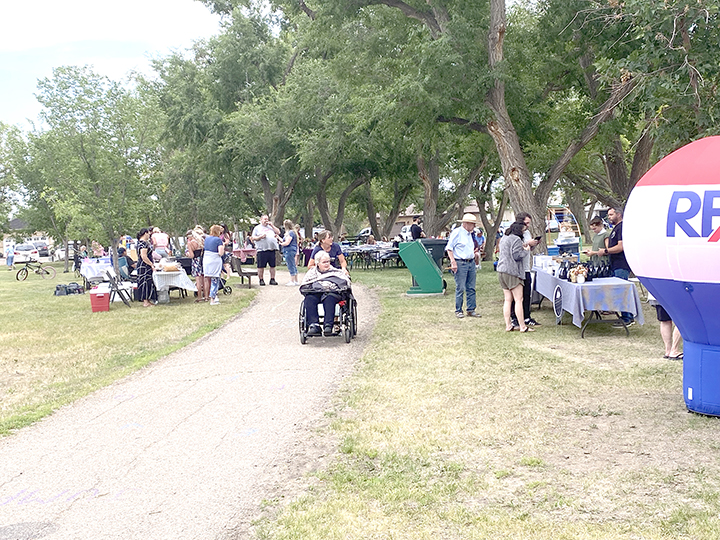 Commentator/Courier File Photo
By Anna Smith
Commentator/Courier
Another summer has come and come, and with it, many weeks of markets in Bow Island's centennial park.
This year, the final market is slated for the evening of August 23, and it aims to make the season go out with a bang.
"A lot of our vendors have children in school and want that last week to kind of prepare for that," said Kathy Nixdorf, organizer for Market in the Park. 
"Evangelical Free Church traditionally has done a big finale that last week, and they bring in bouncy castles and other entertainment and it's very well attended," said Nixdorf. "A lot of our clubs have registrations that night as well. So it's kind of a big, big send off into the fall and the end of summer market."
This year is no exception, said Nixdorf, with bouncy castles, games, and more for children, as well as door prizes donated from various local businesses and vendors to be won by attendees.
"We're also doing our fundraiser," said Nixdorf, who explained that while it was supposed to take place last week, it had to be postponed due to inclement weather. "The fundraiser is to raise funds towards the Westview playground." 
It's been an amazing summer season for vendors and shoppers alike, and Market in the Park hopes to see everyone out for the final market as a wonderful send off for the end of the 2024 markets.
"It's great to be giving back to the community in all these different ways," said Nixdorf.