Dunmore Equestrian crowns rodeo sweetheart and miss
Posted on September 7, 2023 by Ryan Dahlman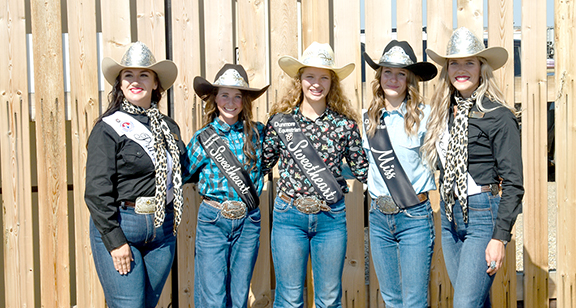 Commentator/Courier Photo by Anna Smith Rodeo Royalty: From left to right: Medicine Hat Exhibition and Stampede Princess Caitlyn O'Connor, 2022 Rodeo Sweetheart Hanna Chalifoux, Rodeo Sweetheart Sophie Cruthers, Rodeo Miss Jada Silcher, and Medicine Hat Exhibition and Stampede Queen pose for a portrait altogether as crowned royalty.
By Anna Smith
Commentator/Courier
Local Journalism Initiative Reporter
The Dunmore Equestrian Centre is proud to welcome Sophie Cruthers and Jada Silcher as the 2023 Dunmore Equestrian Centre Little Britches Rodeo Sweetheart and Miss.
It was both girls' first time taking part in the competition, and they expressed their gratitude and excitement for the opportunity to take part and, now, to visit all of the places they'll attend alongside Medicine Hat Exhibition and Stampede Queen Emma Atkinson and Princess Caitlyn O'Connor.
"I wanted to get out of my little shell and out of the house and just be more social and get out there," said Cruthers, who will be spending plenty of time on the road away from her hometown of Shaunavon, Sask. as she visits various rodeos during her reign as sweetheart. 
Her favourite part of the competition was horsemanship, but modelling was a new experience for her; usually she spends her time making art.
Rodeo Miss Silcher is from just outside of Dunmore, and is equally grateful for the opportunity, and looks forward to the future.
"I'm super grateful for the opportunity. And for all the people that have been behind me to get me where I am today. And for the Dunmore Equestrian Centre, and all of our sponsors, I'm just so grateful and excited for what the year is going to bring," said Silcher, who confessed to keeping her prepared speech a secret until the last moment to maximize on her ability to work under pressure while making some last minute edits.
Both girls were judged on their public speaking, modelling, and horsemanship over Aug. 25–26, as well as their general personality during the event.