Jade Homes celebrates 25 years in Bow Island
Posted on September 14, 2023 by Ryan Dahlman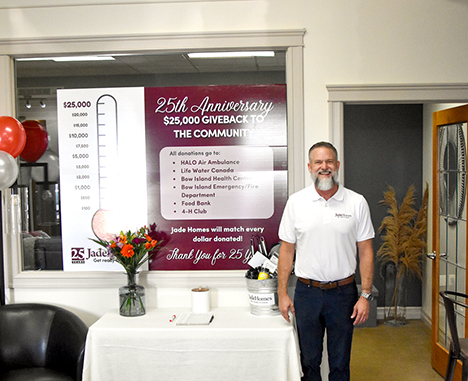 Commentator/Courier Photo by Anna Smith Ready to Move: Pictures from Jade Homes 25th Anniversary on Sept. 1.
By Anna Smith
Commentator/Courier
September 1 marked cause for celebration, as Jade Homes looks back on 25 years of making incredible homes possible.
As far as he's aware, Jade Homes was one of the first to be creating Ready to Move homes in the province, says Jade Homes owner John Hiebert.
"Manitoba was building some RTM. Saskatchewan has maybe one or two, but in the last 25 years RTM building has exploded," said Hiebert. "And we're proud to know that we've been in business for 25 years, and we're one of the first."
Hiebert recalls fondly their first homes were built on a little grassy area, with some gravel thrown down where the supports were, a long way from the large service lots that they now build approximately 30-50 homes a year on.
"It's a blessing to take care of customers and make their dreams come true. And it's also a blessing to have a great staff that I get to work with. I would take our success as a blessing from God," said Hiebert.
Hiebert came to Bow Island in order to start Hiebert Cabinets, working alongside the original owner of Jade Homes before eventually acquiring it. 
The day was marked with tours of the yard and the various homes they had currently, as well as a collection of baked goods, and a visit from the Rodeo Queens and the local 4H Equestrian Club in the afternoon.
"We sell to a lot of ranchers and rodeo people. And oilfield people and farmers, we sell to everyone but that's kind of a group of people we sell to," said Hiebert. "So the ranch community is gonna come out and celebrate too. And we're looking forward to it, we're actually going to combine it today with the Pro Rodeo in Bow Island here."
As well as celebration, Jade Homes was also eager to give back to the community, matching donations to HALO, Lifewater, Bow Island Health Centre, the Bow Island Emergency Department, or 4H, up to $25,000.
With 25 years past and looking to the future, Jade Homes is looking forward to making client's dream homes a reality, no matter how far they may live.
"The RTM home is made to go out where people want a nice home, but it's hard to get it built there," said Hiebert. "And that's where Jade Homes likes to position ourselves in the market with building good quality, high quality, where we take care of our customers and people can have their dream home, a beautiful, large dream home and move it out to an area where it's hard to get trades."
RTM houses are made to the same standard as any home built on site, stressed Hiebert, just made on the yard and durable enough to withstand a potentially long journey to its final destination; and with everything done on site, quality assurance is swift and simple.
Hiebert encourages anyone who has yet to consider a ready to move home to make their way down to the lot, take a tour, and see for themselves.