St. Michael's School blends prayer and poppies for Remembrance Day
Posted on November 16, 2023 by Ryan Dahlman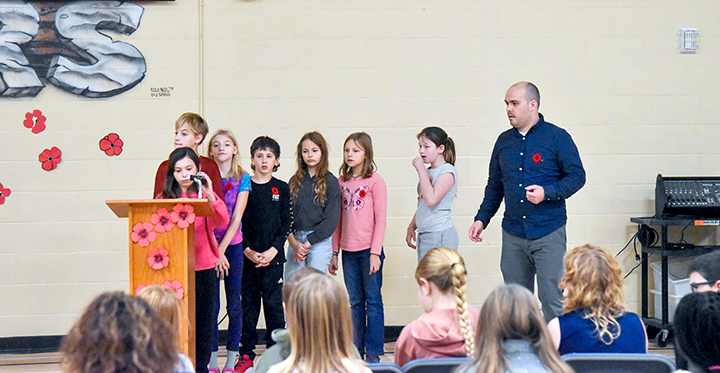 Commentator/Courier Photo by Anna Smith HONOUR: Photos of St. Michael's Students at the November 8 Remembrance Day assembly.
By Anna Smith
Commentator/Courier
St. Michael's School in Bow Island hosted an early Remembrance Day assembly on November 8, on the last day of school prior to the 11.
Dave Allen, a teacher in the school and the organizer for the assembly, expressed pride in the students for taking the reins and being active participants in honouring those who have fallen, as well as those who continue to fight around the world.
"Today, we were coming together as a school. This is our last day of school before Remembrance Day, so we had a small Remembrance Day assembly. The grade fours and grade fives, took charge, they lead in basically everything. And the grades one to six also had a song prepared for everyone to hear at the end, grade ones to three recited some poetry, including 'In Flanders Fields'," said Allen.
The ceremony is very important to Allen, who shared that several members of his family have served in the armed forces, including each world war, and feels that it's important to share the importance he feels for the day with his students, especially as having war veterans within student's families becomes rarer over time.
This Remembrance Day assembly included passages from the Bible, keeping in line with the school's belief in incorporating faith into every aspect of a child's education.
"St. Michael's School is a wonderful faith-based place of learning and instruction," said Allen. "Faith isn't just one class a day. It's something that we infuse into all of our teachings. And so, having readings from the Bible, and having prayer in the assembly is just a really important part of what we do."