Rebels earn silver in Curtis Kerner Memorial hockey tournament
Posted on January 20, 2015 by 40 Mile Commentator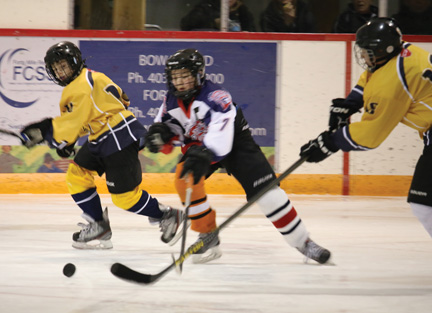 Blayze Uchikura gets control of the puck in the third period in the Rebels game against the Duchess Storm on Saturday.
By Jamie Rieger
The 27th annual Curtis Kerner Memorial Pee Wee hockey tournament, hosted by the Bow Island/Foremost Pee Wee Rebels, was held in Bow Island over the weekend with lots of fast-paced action taking place on the ice.
The tournament started on Friday evening with the ceremonial puck drop by Kerner's nephew, Devon Hurt. Kerner, an avid hockey player in Bow Island who also played for the Taber Oil Kings.
The Kerner family has honoured Curtis's memory through the annual pee wee hockey tournament.
Competing against the Bow Island/Foremost team, were the Medicine Hat Canucks, Medicine Hat Pee Wee Flyers, Lac La Biche Clippers, Duchess Storm, and the Ponteix Penguins.
Rebels' assistant coaches, Darcy Huisman and Lee Pahl both said the tournament was a great team-builder and morale booster for the local kids.
"It is good to play these different teams that we normally would not be playing and it's really great for team morale," said Huisman.
The results of the Curtis Kerner Memorial Tournament over the weekend were:
"C" finals saw MH Flyers win over? the MH Canucks. 2-1 was the final score after a 5 min sudden death overtime period, and going to a shoot out.
"B" finals saw Duchess Storm beat LacLaBiche Clippers 10-0.
"A" finals saw Ponteix Penguins defeat the Bow Island/Foremost Rebels 7-0.