Burdett's Lane representing Alberta at Tournament 12
Posted on September 1, 2015 by 40 Mile Commentator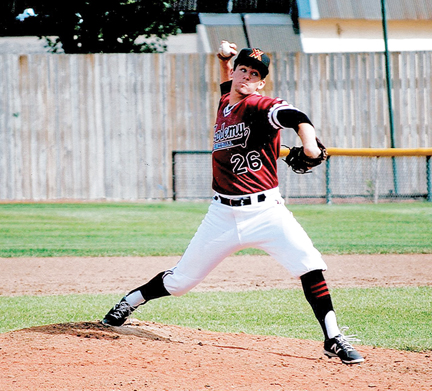 PHOTO SUBMITTED BY JALEN LANE - Jalen Lane is heading to Roberto Alomar's Tournament 12 to pitch for Team Alberta. The tournament takes place at Rogers Centre Sept. 14-18.
By Jamie Rieger
It will be an opportunity for one local pitcher to show off his best in front of scouts and fans at the Tournament 12 baseball tourney in Toronto.
Jalen Lane, who attends the Vauxhall Baseball Academy, said being able to pitch in Tournament 12 is something he has dreamed about.
"This is a dream come true, but I am just going to treat it like any other tournament and use what I have learned at the Vauxhall Baseball Academy," said the pitcher, who said his specialty pitch is the fastball slider.
Lane recently played for Team Alberta at the Canada Cup in Saskatoon, but the provincial team going to Tournament 12 is made up of different players.
"For the team going to Tournament 12, the coaches watched the kids throughout the year and Roberto Alomar will go to various places to pick the players," said Lane's mom, Carma. "All the teams also have alumni coaches."
Lane has been working hard in preparation of the upcoming tournament. He does weight training two or three days a week, then an intense cardio work-out and throws five or six days a week.
The achievement comes after many years of playing the sport he is passionate about and has been playing since he was a young boy. For his Grade 9 school year, he spent part of the time in Calgary so he could do indoor training, then attended Foremost School for the rest of the term.
For the past year, Lane attended the Vauxhall Baseball Academy and said he focused primarily on strength training and learning how to prepare for spring training.
Lane is returning to VBA for his senior year and said the camaraderie with his teammates is a big part of the whole experience.
"You start at the end of August and you may know one or two, but before long you are like brothers with them. You are competitive, but you motivate each other," said Lane, adding that 22 players from across Canada are attending VBA this year.
Lane calls Etzikom's Skyler Stromsmoe his idol.
"We go watch Skyler play in Phoenix. He's Jalen's role model," said Carma.
The Tournament 12 showcase will take place at Rogers Centre in Toronto on Sept. 14-18. Hall of Famer Roberto Alomar works with the Blue Jays Baseball Academy in hosting the tournament that highlights some of the best young amateur players in the country. Eight teams, representing various provinces, will compete and baseball scouts and recruiters will be in attendance.
Lane and his family will leave on Sept. 13 and Carma said while there, they will also be taking in a Blue Jays/Red Sox game.