Curlers heading to nationals are proud of Redcliff roots
Posted on November 24, 2015 by 40 Mile Commentator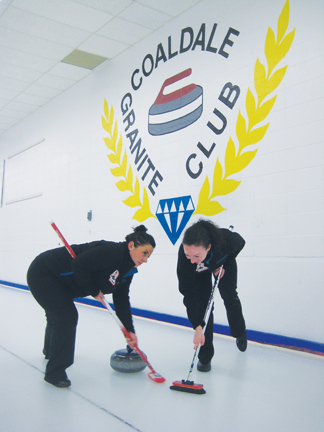 Redcliff girls, Avice DeKelver and Samantha Davies are in Ottawa this week, competing in the Travelers Curling Club National championship.
By Tim Kalinowski
Avice DeKelver and Samantha Davies would both tell you they are Redcliff girls through and through. They both got their starts in curling at the Redcliff Curling Rink and became best friends later while working at the Redcliff Drive-in. Both came to curling from slightly different places, but have found a mutual love of the sport which has  helped crown them provincial club champions in 2015. Now curling out of Coaldale, the two friends are now on their way to Ottawa to represent Alberta in the Travelers Curling Club National Championships Nov. 22-28.
"We have had a team together for the last four years out of Coaldale," explains Davies. "I skipped a team with Avice as lead. We have tried the last four years to qualify for provincials, unsuccessfully; always losing in the semi-finals. In August of 2014 we got together with Nanette Dupont who is our skip now. We were looking for someone to take us to provincials, and it worked out really well. Our goal was to get to provincials and now here we are as Team Alberta."
"It's a dream a come true. This  is like the club championship of curling. We are excited. We will even be carrying the Redcliff flag while we are there." confirms DeKelver with a chuckle.
"I think it's more exciting that we (Avice and I) get to do it together," says Davies. "It's just something her and I have been working toward for over ten years so it feels really good to be able to accomplish what we set out to do."
DeKelver recalls the first time she knew she wanted to take up a curling broom.
"I was nine years when the 1998 Olympics were happening in Nagano," remembers DeKelver. "I was watching Sandra Schmirler play, because of the time difference it was like stupid o'clock in the morning. I had a little TV in my room that was probably the size of an iPhone now. I remember hiding under my covers watching her play and I was like I don't know what this is but I want to try it."
For Davies curling was in her blood from the very beginning.
"Both my parents were super-active in the Redcliff Curling Club for as long as I remember. Every Friday night of my childhood until I was old enough to babysit my brother at home I was at the curling club," says Davies.
Both do not know what kind of competition they are likely to face in Ottawa, but are confident going in, each other and their rink.
"I think the mentality is when you are playing anybody is everybody has eight rocks. You have to keep your game up for all eight rocks," says DeKelver.
"To win provincials we played shot by shot, player by player, game by game, day by day; taking it slow and making every bit meaningful is what gets us through. That's one of our edges." says Davies.
DeKelver says curling is a passion.
"I really like the community of curling. Wherever you go, and you are a curler, there is a lot of camaraderie. We went to 15 different bonspiels last year and curled in 15 different clubs. Wherever you go, people are so welcoming and they are there to have a good time."
Davies says she will be thinking about all the years, time and effort she has put into the game as a player and coach when she touches down in Ottawa.
"Why wouldn't you want to travel to your nation's capital and represent your province? It's an unbelievable feeling."
The Alberta provincial team consists of skip Nanette Dupont, lead Avice DeKelver, second Kendra Nakagama and third Samantha Davies. We join with all our readers in wishing them the best of luck in Ottawa.