Redcliff player makes Alberta Winter Games team
Posted on December 29, 2015 by 40 Mile Commentator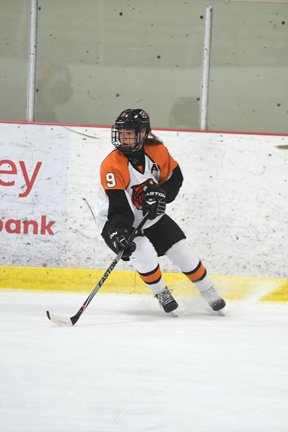 PHOTO SUBMITTED BY SCOTT PAHL - Thirteen-year old Alli Pahl was chosen as one of two players to represent Redcliff on the Zone 1 AAA Bantam girls hockey team for the Alberta Winter Games, joining teammate, Kaitlyn Ross.
By Jamie Rieger
Lots of hard work, dedication to the game, and getting along with her teammates are what Redcliff's Alli Pahl believes can make a winning team. It is this thought she brings with her as  she joins the Zone 1 AAA Bantam girls' hockey team for the Alberta Winter Games being held in Medicine Hat Feb. 13-16.
The 13 year-old defender plays for the AAA Bantam Southeast Tigers, a Medicine Hat Minor Hockey Association team that plays out of Vauxhall and is part of the Alberta Major Bantam Female Hockey League.
Alli said she knows some of her Winter Games teammates from spring hockey league action and thinks they will play well together as a team. With only one weekend of practice on Jan. 16-17, the girls do not have a lot of time to prepare.
"I am a little nervous and I may need to adjust things a bit, but once I get to know them all, it will be fine," she said. "I think we have lots of great players on the team. If we get along, it will help how we play."
Alli started playing hockey at the age of five for the Redcliff Grizzlies, and said what she likes best about hockey is the fact that it is a game of skill.
"I like how you really have to work hard to become good at it."
And work hard she does. On off-days, Alli will usually work out, or spend time stick handling and shooting pucks.
Selections for the Winter Games team were held at a camp in Lethbridge on Dec. 4, 5, and 6, a camp the girls had to register for in October. Approximately 50 girls attended the tryouts.
"She had a really good camp. This is a pretty big deal for these girls," said Alli's dad, Tigers coach Scott Pahl.
Pahl will be joined on the Zone 1 AAA Bantam Winter Games team by Redcliff goaltender Kaitlyn Ross.