Degenstein named Hockey Alberta coach of the month
Posted on January 19, 2016 by 40 Mile Commentator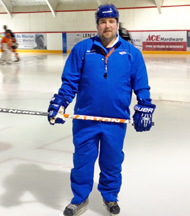 Bow Island's Lyn Degenstein was recently named coach of the month for December by Hockey Alberta.
By Jamie Rieger
The local Bantam hockey players started calling Lyn Degenstein "Papa Smurf" when they first saw him wearing the bright blue track suit he received for being named Hockey Alberta's Coach of the month for December, but that just shows how comfortable his players feel and look up to him.
"I care about the kids a lot. I make sure I get to know them and figure out what motivates them," said Degenstein. "I try to be a mentor to them and not just about hockey, but about life."
Degenstein takes the time to teach his young players about teamwork, discipline, and being respectful towards others, values he said will benefit them on and off the ice.
According to one of the nominations submitted to Hockey Alberta, Degenstein has been coaching two local teams and is president of the Bow Island Minor Sports Association.
The kids enjoy his coaching as he is a fair and honest coach with the kids and parents. He stays very calm for dealing with 13- and 14-year old boys," reads the nomination. "He truly cares for these players and is attempting to do the best he can for each of them."
Degenstein has a son playing first year of peewee hockey, and he is assistant coach for that team. He is also head coach for the bantam team for which another son plays.
For being named Hockey Alberta's Coach of the month for December, Degenstein received a gift package that included a track suit, helmet, gloves, new pucks, and items that he can use for practices and drills.
"This is really exciting, really gratifying. It is really nice just to be nominated," he said.