Fode signs onto TRU WolfPack baseball
Posted on January 26, 2016 by 40 Mile Commentator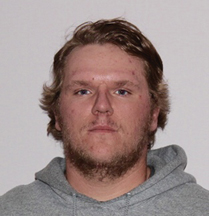 SUBMITTED PHOTO - Bow Island's Vance Fode has been signed by the Thompson Rivers University Wolfpack baseball team.
Bow Island's Vance Fode will be heading to Kamloops to play baseball after being signed by the Thompson Rivers University WolfPack, according to a statement released by the head coach.
"We needed a power hitter and he shows that capability," said head coach, Ray Chadwick who added one of his scouts saw Fode play in Alberta this past summer for the Vauxhall Spurs of the American Legion "A" league.
"He is a great team guy and will fit right in," Chadwick adds. "He could play for us right now."
The 6'2.5" first baseman and designated hitter agreed that hitting is his main strength.
"I was looking at Miles Community and Lethbridge Colleges but I like BC and Thompson Rivers offers the Sports Event Management program I was looking to take," said Fode.
Fode's coach with the Spurs is former Prairie Baseball Academy player Joel Blake. Blake competed against current WolfPack assistant Kyle Dhanani and ex-TRU assistant Scot Nevison.
"Vance is a big boy and can hit. He has a lot of power with still more to be tapped into. Vance is still developing mentally and physically as a hitter and is starting to develop a solid approach. Given that he still has another summer to mature as a ball player, I think Vance can make a difference in the TRU lineup. He has a chance to be a legitimate power hitter in the CCBC (Canadian Collegiate Baseball Conference," said Blake.
Fode hit .317 last year for the Spurs (who won the Alberta Northern District but lost out in the first round of playoffs against American competition). He had five homers, 39 hits in 123 at bats along with eight doubles and five homers.  Fode was walked 10 times, scored 32 runs and had an on base percent of .427.
"Vance is a good kid and a good teammate. He has matured a lot in the two years that I have coached him and is becoming a solid ball player. He lives and breathes baseball-making the hour trip from Vauxhall for every practice and game, often coming early and leaving late. He is dedicated and has started making the necessary mental adjustments it takes to be a successful college hitter. With the help of the solid coaching staff at TRU, Vance has the potential to be a special player," Blaked added.
Fode has watched some CCBC games in Lethbridge and knows what he is getting into competition wise.
"It will be a fair-sized jump, but I am ready to work hard and shorten the step," he said.
Until then, he will be under the direction of Blake, who is not only the coach of the Spurs, but also currently an assistant with the Vauxhall Academy of Baseball and is excited to see how the WolfPack coaching staff will further develop Fode's skills.
"TRU is a good school, located in a great city with an excellent coaching staff. I am excited for Vance. On behalf of the Vauxhall Spurs, we wish Vance the best of luck with his endeavours and look forward to following him and his baseball career," said Blake.
Fode will also play this summer as an affiliate player with the Brooks Bombers of the Western Major Baseball League.