Harty happy to be heading to Winter Games
Posted on January 26, 2016 by 40 Mile Commentator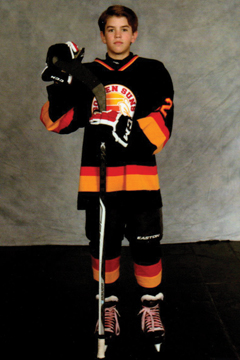 PHOTO SUBMITTED - Etzikom's Gerret Harty will be joining the Zone 1 Sunny South hockey team for the Alberta Winter Games, taking place Feb. 13-16.
By Jamie Rieger
Etzikom's Gerret Harty is starting to get excited to be representing the area on the PeeWee Sunny South (Zone 1)hockey team at next month's Alberta Winter Games taking place in Medicine Hat and Cypress County Feb. 13-16.
Harty has been selected to the male hockey team for the Sunny South (Zone1) squad after a selection camp in Lethbridge.
"I had to try out in Lethbridge where players were evaluated and at the end of the practice, we had two games.
Harty tried out for and will be playing forward for the upcoming Winter Games, but he typically plays defense," said Harty, who plays for the Taber PeeWee Golden Suns during the regular season.
"I grind, I get the puck in, and I screen the goalie. I do all the dirty work," he said.
Harty starting skating at the age of three and one year later, was already playing hockey.
"I like the skills, I like the phyusicality, and all that comes with hockey," said the 12-year old. "I want to go as far as I can and will go as far as I can with it,"
The team Harty will be playing with has no practices scheduled fof prior to the Winter Games, but he is not too worried about it.
"We are doing a lot of team-building over the phone and I know quite a few of the players either from playing with my Taber team or from spring hockey in Medicine Hat," he said.