Panthers rewriting the book on girls' basketball in the region
Posted on June 7, 2016 by 40 Mile Commentator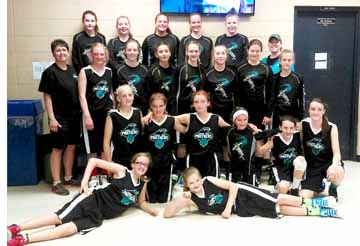 PHOTO BY TIM KALINOWSKI- The Prairie Rose Panthers is a new basketball team with players from Redcliff, Irvine, and Schuler.
By Tim Kalinowski
Girls basketball is going regional as the Prairie Rose Panthers, made up of students from Redcliff, Irvine and Schuler, come together to play basketball and create the friendships that will see them into their high school years.
The Prairie Rose Panthers started up earlier this year with U15 and U13 teams being drawn together from across Cypress County and Redcliff. The Panthers received an additional boost from the Redcliff Lions Club to get them started on the right foot as a team.
"I happened to be talking with Bob Wickens, who is a member of the Redcliff Lions, and I just simply asked him if they would be interested in maybe donating a little bit of money so we could purchase some basketballs and a ball bag," explains Karen Bongaards, a teacher at Parkside School and one of the team's coaches. "He said whip me up a letter, give it to me and I will present it to our club. I got a call the next day saying they had denied my request for a little bit of money and decided instead to pay for everything (a $600 value). It was very generous of them, and we are certainly appreciative of that."
From there, Panthers co-founder Brandi Stroh was able to access Irvine School to hold practices.
"My daughter is actually one of the players," says Stroh. "She had played since Grade 4 with another local club. In coaching the Irvine School team I realized there was a need, and that we should start something like this for the rural community. We were hopeful we would have enough girls for one team. We ended up having enough girls for two teams."
"Ideally, where we kind of would like to get to is the rural kids playing together so when they get to Eagle Butte they would be a little bit familiar playing with one another," adds Bongaards.
"I think Karen and I both saw girls are starting to really invest their time into basketball. It isn't considered a boys sport anymore," says Stroh. "I think there is a huge need for this in Prairie Rose, and I think probably for a boys team too. Basketball is exploding right now in the area, and I am happy to see that."
Stroh says it has been a privilege in her first year working with the Panthers to see the girls beginning to come into their own as a team.
"I have seen the girls change from the beginning of the season to end of the season. They are growing in confidence, in their outgoingness. You can tell they are proud and feeling a sense of accomplishment. And some of these girls would not have known each other had they not played club ball here together."
For more information on the Prairie Rose Panthers contact Brandi Stroh at bbstroh@yahoo.ca.