Local roper enjoys his time at National Junior High Finals south of the border
Posted on July 26, 2016 by Tim Kalinowski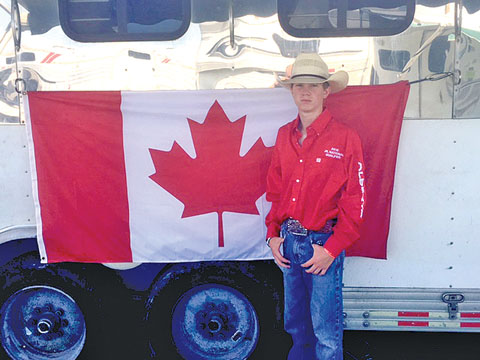 Photo by David Long Walker Long recently competed at the Junior High Final Rodeo in Lebanon, Tenn. The first Cypress County resident to do so.
By Tim Kalinowski
Walker Long returned from the National Junior High Finals rodeo in Lebanon, Tennessee with some money in his pocket and a great story to tell.
Walker was first ever Cypress County resident to qualify for the Junior High Nationals. He did so in two events: Team Roping and Breakaway Roping. While the Team Roping did not go quite as well as he and partner Maddie Bews from Okotoks hoped, Walker ended up finishing 17th out of 170 Breakaway Ropers in his heat. Walker says the experience can only help him in his rodeo career going forward.
"It was a lot bigger than I was used to," Walker admitted in an interview last week. "There were so many contestants, bigger place for the competition. There were about 150 or more in each event… I just know I am going to practice more and mentally prepared for down the road. I know I can use this experience to help me going forward."
There were 1,000 competitors in Lebanon and their families staying on site. Temperatures hovered around 95 F with close to 100 per cent humidity. It was a challenge to get acclimatized before the competition for both rider and horse, but Walker says all the circumstances he had to overcome helped his mental strength as a rodeo competitor.
"I learned it was all in your head. If you are good in your head, it's going to go good. If you are down on yourself, nothing good will happen."
A huge highlight for Walker of the entire experience (he and his family were gone from June 15-28) was the nightly concerts, parties and fun games he and other competitors got to experience together. There were representatives from 44 states, three provinces and the country of Australia, which made for great socializing opportunities.
Walker tells the story of he and his brother Houston's (Huey's) experience in the nightly goat roping contest.
"It's just like roping a steer, but you rope goats instead," explains Walker. "The first night we didn't go in the competition, but the second night me and Huey (my brother) went, and I think there were only three catches. All you had to do basically was catch three goats, and me and Huey caught our three goats and we won it— We won $550 American a man! There were 100 teams a night. And the ones who won money got to return for the finals later."
Walker and Huey had an hilarious experience in the goat roping finals. After they had managed to catch their first two goats in seven seconds, the chance to win big money was close at hand.
"This big black goat runs in," remembers Walker. "And all we had to beat was 11 seconds to win $1,600 American a man, and buckles. Huey roped him and the goat took off and jerked him right over. It dragged him down the arena!"
Walker is grateful to all his local sponsors and the rodeo community for their great support.
"The local rodeo guys have been really good to me. When you see the pros going so good it motivates you to do even better. All my 12 local sponsors helped me get there."