Watson's Olympics ends with disappointing result
Posted on August 17, 2016 by Commentator/Courier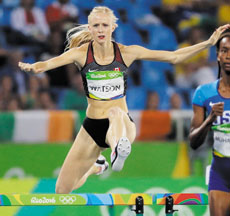 Canada's Sage Watson, left, competes in a women's 400-meter hurdles semifinal during the athletics competitions of the 2016 Summer Olympics at the Olympic stadium in Rio de Janeiro, Brazil, Tuesday, Aug. 16, 2016. (AP Photo/David J. Phillip)
Commentator/Courier
Seven Persons track phenom Sage Watson's Olympic medal hopes came to an end in Rio on Tuesday night as Watson failed to advance out of semis. Watson finished fourth in her 400 metre hurdles heat with a time of 55.44 seconds. Watson had predicted earlier in the Games that a time under 55 seconds would likely be needed to get into the finals and vie for a chance for a medal, and she, was, sadly, proven correct as all of the eight qualifying runners finished under that time.
Although Watson's performance has brought a lot of local pride in her achievements, and she has proven herself over and over again to be one of the best in the world in her sport,  for the utlra-competitive Watson her result in Rio is likely a keen disappointment. Back in July Watson told the Medicine Hat News what her goals had been heading into the year.
"Goals, since the beginning of this year I wanted to make the Olympic final," she said. "The goal had been to make the Olympic team, but what my heart's been set on is getting prepared for that final."
At 22 years-old Watson is hardly done in the sport she loves. There is no doubt she will take her experience in Rio and apply it in four years in Tokyo.
Watson still has work to do in Rio, however. She's part of Canada's 4 x 400 metre relay team which runs a qualification heat Friday and hopes to be in Saturday's final.
-With files from the Medicine Hat News