Wolves playing as a pack
Posted on February 28, 2017 by 40 Mile Commentator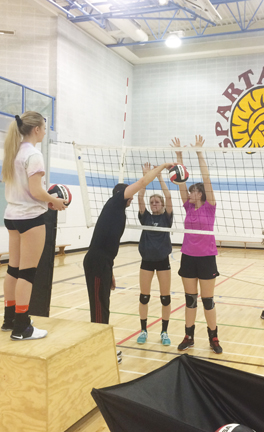 Photo by Justin Seward- The Seven Persons Wolves 16U club volleyball team claimed the bronze medal at their season opening premiere tournament in Calgary earlier this month.
By Justin Seward
The Seven Persons Wolves 16U girls club volleyball team started their season on the right foot after capturing the bronze medal at the season opening premier tournament in Calgary earlier this month and a showing they want build off  of during the course of this season.
After taking a set off the University of Calgary Dino's feeder team in the semi-finals, these young wolves have become hungrier on the court to be mentioned in the same breath as their counterparts by season's end.
"I think our goal this season is beat them and maybe get into the Top 2, maybe number one," said setter Donera Resch.
"To us it's a pretty big deal because they always have all this training stuff and people coming in to do these sessions. We don't have anything like that here, we just have practice maybe once or twice a week. So the hard work we can put in too, it really means alot ."
She said what that match proved against Dinos is that they can build off of their energy and tenacity to intimidate them more and if they put in the effort, she sees more medals being won at premiers for this club.
Fourth-year assistant coach Lyndon Haugan, who has girl triplets on the team, commends head coach Mark Resch in how he is able to mesh the players as a group and believes that this is one of the only teams in Alberta that develops every player, compared to other clubs who'll shorten their benches to nine or less players.
"We're developing people at the end of the day," said Haugan.
"The sport is secondary. It's to appreciate the skill potential of each individual and try to bring it together, that's what makes it so much fun."
What's important  for him too is to play at a club level for five months a year means a lot to the girls' development because school volleyball is only three months and they play very little attention to preliminary practicing, which means you're thrown right into competition whereas in club you have the opportunity to build your skills.
Haugen said they don't worry about gold medals but place an emphasis on each game and point because it takes the pressure off the girls and as they get older there will be more challenges with complex skills and executions.
The team will continue to practice until their next tournament in mid-March.