Grizzlies claw their way to victory
Posted on March 28, 2017 by 40 Mile Commentator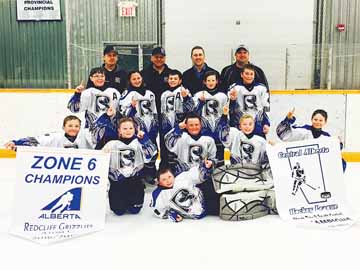 Photo submitted by Kim Olson - The Redcliff Grizzlies recently captured the Atom Tier 2 Central Alberta Hockey League pennant.
Submitted by Kim Olson
The Redcliff Grizzlies atom tier 2 team won the Central Alberta Hockey League (CAHL)  South Central pennant after defeating the Foothills Flyers. The Griz swept the Flyers in the best-of-three  league final series with a 4-3 Game 2 win at the Kinplex in Medicine Hat on Saturday, . In Feb., the atoms also won the Zone 6 banner and represented the South Zone at provincials in Provost where they won silver on the previous weekend.
The champioship team included Front row: Grady Ford (l-r), Randen Collier, Dyllan Glasgo, Nolen Sutherland and Cash Olson. Middle row: Landon MacPherson (l-r), Wyatt Dreger, Deegan Bert, Slade McFadzen and Leighton Verishine. Back row: assistant coaches Kurtis McFadzen(l-r), Bruce Johnson, head coach Ryan Dreger, and assistant coach Ryan Ford.