Talon teammates make the jump to Kodiak den
Posted on April 18, 2017 by 40 Mile Commentator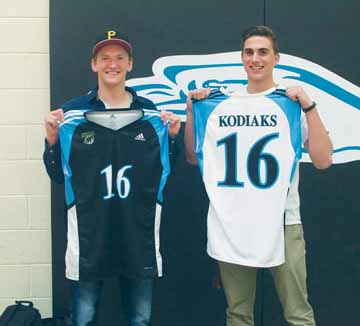 Photo by Justin Seward- Eagle Butte Talons senior boys' volleyball players Hayden Klaiber and Cole Mack signed on with the Lethbridge Kodiaks on April 11.
By Justin Seward
It can be a difficult transition from high school to college level volleyball but one that Eagle Butte Talons volleyball graduates Cole Mack and Hayden Klaiber will embrace after officially signing a contract in their high school gym on April 11 to play for the Lethbridge Kodiaks mens volleyball team next season. "It's exciting," said Mack. "It'll be a big step and it'll be fun to go through and experience it. The group of guys are really good to play with."
The setter knows if he is to be successful in cracking the line-up as a rookie, he has to keep up with the much quicker pace of the college game and be more particular with his techniques.
"Just take this off season, work hard and push myself coming up into August and September," said Mack. "Then once practices start just work my butt off and get in the line-up as soon as I can."
Mack will be enrolled in the Physical Education and Leadership programs next fall.
For Klaiber, he was pondering going to Lethbridge College for Agricultural Sciences , but when the volleyball offer came up, it made his decison much easier to become a student-athlete.
"They have a real good athletics program in general," said Klaiber. "They compete and everyone has good attitude. They just run the same page about everything, I'm excited about that. I want to work hard as I can and be the best player I can be."
The intensity of the college game is what is going to drive him to be a better player and be on the game night roster.
His focus before the season will be to at the gym everyday working on vertical training and playing beach volleyball to increase reaction time.
Kodiaks head coach Greg Gibos said the team wanted both boys because of their quality characteristics and the Kodiak program surrounds themselves with good people to have a strong program.
Gibos phrased  Mack's game because he's  a very strong setter who has a real good presence at the net and effectively distributes his offense and according to him that is a rarity at the high school level to possess those skills. He mentioned Klaiber is a first contact player that takes care of the court on both sides of the ball.
"They're going to help with team dynamics," said Gibos. "They're both really good leaders. Hayden's going to definitely help us in the back row defending. Cole's going to help us out at the net all time, especially with his hands." The Kodiaks are expected to field a competitive team with 12 of the 16 players returning.