Pahl ready for Challenge Cup; hopeful it will lead to future opportunities
Posted on May 2, 2017 by 40 Mile Commentator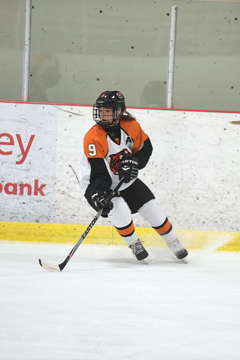 Photo submitted by Scott Pahl - Redcliff's Alli Pahl will be heavily relied upon on Team South Black's defence during the Challenge Cup in Olds this week.
By Justin Seward
Alli Pahl knew she had a learning curve prior to last season when she decided to  play boys hockey with the Medicine Hat  Hounds bantam AA team and it paid dividends in helping her prepare for playing with Team South Black for the 2017 Alberta Challenge in Olds later this week.
"I was really excited," said Pahl. "I thought I had a pretty good camp going into it. I know I've had some experience with it before in winter games."
The four day selection camp included a skills day, small games and a reguler on ice game and Pahl  had to be mentally prepared to play to her strengths of skating and calmness with the puck if she was going to earn a spot on the team's back end. "There was quite a bit of competition on the ice," said Pahl. "All the girls do their best. It was difficult at times but I knew how to push through it. I've been through it before with the girls and with boys even more I had to adjust to it going back to girls again."
Pahl said playing boys hockey at an elite level taught her how to use more body and become a stronger and faster player to improve her overall game which helped  in coming back to the girls game. When she arrived at selection camp she was able to have some contact with girls and that is one aspect of a player's game that coaches will look for.
"I definitely had to focus on not hitting back but I kept everything the same," said Pahl. "I also realized I had more time than I thought and with boys and their speed I had to rush things and be faster but with the girls I have more time and more space to do what I wanted to do with the puck."
Her approach to the tournament will be to keep the plays simple and providing a hard, grittier  game. Pahl played in the 2016 Alberta Winter Games in Medicine Hat and now if she has a strong showing at the Challenge Cup then she will have a chance at the Alberta U16 team. She is hoping to play Midget AAA girls or at an academy next season. The six-team Alberta Challenge is from May 4-7 in Olds.