Werre has eye on Canadian tour
Posted on May 30, 2017 by 40 Mile Commentator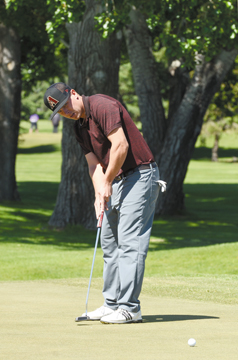 Southern Alberta Newspapers photo by Ryan McCracken - Ryan Werre makes a putt on the third hole during the final round of the Victoria Day Classic golf tournament at the Medicine Hat Golf and Country Club on May 22.
By Justin Seward
Redcliff golfer Ryan Werre was dialed in all tournament long at the Victoria Day Classic from May 20-22 at the Medicine Hat Golf and Country Club.
The 25-year-old recorded rounds of 71-69-70-210 to win the event for the second time in five years, finishing nine strokes ahead of the second place finisher Dillon Batsell.
What made the victory all more impressive was Werre's streak of 38 consecutive holes of bogey-free golf.
"My second round was my best round out of the three. I didn't make a bogey and I was pretty calm out there and luckily gave me a cushion going into the last day," said Werre. "I was playing pretty well going into it. I just thought as long as I could play my own game and pick my spots when to be aggressive and when to be conservative, that was my game plan going in. I knew three rounds at under par, and I had a good chance at winning."
The University of Texas-San Antonio Communications grad said the more fairways he hits the better he tends to score. The course was  playing to firm greens and if players were playing their approach shot from the rough and playing further up, it was not providing an advantage.
"I was definitely focusing on hitting fairways, hitting green and giving myself looks at birdies," said Werre.
After graduating in 2014, Werre has been playing on the Phoenix- based Outlaw Tour, which is a mini tour down south, the last two winters to prepare for the summers of earning a spot on the Canadian Tour.
"It's a different lifestyle," said Werre. "The expenses are really high and you're really not playing for that much money. It's one of those things where you're trying to prep through the whole winter for Canadian Tour qualifying. Unfortunately, I didn't play well there this year in April."
He said it has benefited him playing all year-round because it keeps his status up as a professional golfer and earns him money throughout the winter.
Werre will have to wait a little longer to chase the Canadian Tour dream but in the meantime he will play in Monday qualifier tournaments in Calgary and Edmonton as well as local events, while  he is considering heading down to the North and South Dakota to play on the Dakotas Tour.