Coehoorn relished CFL career with the Green and Gold
Posted on August 22, 2017 by 40 Mile Commentator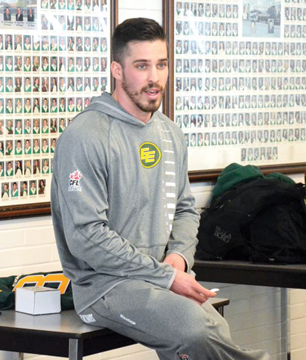 Southern Alberta Newspaper File photo- Redcliff's Nathan Coehoorn is grateful for his six-year career in Edmonton and enjoying life after football.
By Justin Seward
Former Edmonton Eskimo wide receiver and Redcliff native Nate Coehoorn decided to hang up the cleats from the gridiron for good this past April after six seasons but not before going out on top with the green and gold.
The then 29-year-old won the 2015 Grey Cup with the Eskimos and it was after that season there was some uncertainty of whether or not to retire. Injuries and concussions had hampered him throughout his career and at the end the 2016 season he knew it was time.
"It was awesome to be able to win a Grey Cup ," said Coehoorn.
"There is about 3,000 names on the Grey Cup in over 100 years and my name is one of them and it will always be there. When I was leading up to it that season I didn't know when I was going to end it. I was kind of done with the lifestyle of the CFL and a bunch of different factors."
Coehoorn was a baseball player growing up and played in the Canadian Championship at the Little League level.
However, it was when he was Grade 10 at Medicine Hat High School he decided to play football and gives credit to his older brothers, Trevor and Cory, for getting him to participate.
"They both pushed big time because they were super regimented and dedicated and that helped me learn that because I was more immature than they were at their age," said Coehoorn.
After leaving Hat High, Coehoorn bounced around between the Calgary Colts and the Canadian Junior Football's Okanagan Sun before landing with the University of Calgary Dinos in 2007. It was while he was at the U of C that really prepared him for the pro ranks under renowned university coach Blake Nill.
"He just knew how to deal with people with different types of personalities," said Coehoorn.
"He was really good at grooming people for the professional level. He ran the team how they run it in the pros. It was good to b a part of his team. I played in the national championship game a couple of times and University of Calgary and that helped me learn how to play on the big stage. "
With Nill's professional approach to football, came a comfort zone to jolt up into the pros with the Eskimos in 2011 but it came with its nerves because it took some getting used to sit by likes of CFL great Ricky Ray and Fred Stamps.
"It was a little intense," said Coehoorn.
"But once you get on the field and put your helmet on, it's just football, when you got to make yourself known and work your way up to becoming a starter."
He amassed 212 catches for 2,300 yards in his career and did those accomplishments by just going out with the mindset that it was just another game.
Coehoorn said life off the field has been good as he has plans to becoming a partner with his dad Tim's Tank Developments construction company and has not missed football as much as he thought he would.
He has spent more time with his wife Tegan and they are expecting there second child in the near future and has been able to actually enjoy a summer playing softball and camping.