Bulldogs girls' team skates into inaugural season
Posted on October 24, 2017 by 40 Mile Commentator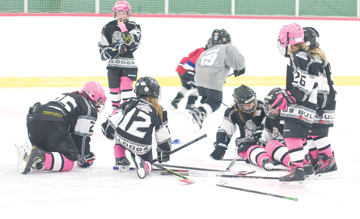 Photo by Justin Seward- The Irvine Bulldogs novice female team were giving it their all during a power skating session at the Irvine Sportsplex on Oct. 19. The players had fun learning the basics of the game.
By Justin Seward
There's a new team at the 'dog pound' in Irvine this year.
Irvine Minor Hockey was given the green light after an ag society meeting this summer to have its first Irvine Bulldogs novice female team and is bound to create an exciting buzz around the arena this year.
The idea of an all girls team stemmed from five girls wanting to play in Medicine Hat and Irvine wanting to keep a strong presence their community and with keeping those players around locally.
"The girls play better with girls," said team manager Janel Vossler.
"We just decided to make our own girls team. We started pulling girls and talking to every other girl we knew."
Vossler noticed as a girls team to start the year they were quiet among one another in the dressing room but by the end of the year they will be best friends, create chatter and come together as one.
"The camaraderie they build is amazing," she said.
"It's really cool to see."
The team has played some games and are learning the basics with every stride they take down the ice.
"We're learning what offside is," chuckled Vossler.
"We've been playing boys so far. We have no idea what it's like to play girls. It's a different story. Girls tend to be a bit more aggressive if you make them mad whereas boys are like 'oh I'll hit you.' Girls are like 'nope I'm coming to get ya.'"
There is no better feeling then playing on home ice because for a lot of these girls, they watched their brothers play in the same arena and there will be more consistency with their weekly ice times.Irvine Minor Hockey president Sheridan Siewert said it has been an exciting opportunity for them because they were "missing the boat" on having a team in the hamlet with players going to the city.
"We have a lot of good girl hockey players out here in Irvine and we felt we could find a spot for them out here for them and build that in our community," said Siewert.
Siewert did say there were girls that played in an all girls league in the city who came back to their school and talked about their great experience and now there are players skating for the first time because of listening to their now teammates.
Minor hockey staff will monitor the program in making sure the kids are engaged and excited in the sport and paving the way for other communities who want to start the same program.
You can see the girls play in the novice 'B' pool in the Medicine Hat house league this season.