Lady Talons oust McCoy in league action
Posted on November 7, 2017 by 40 Mile Commentator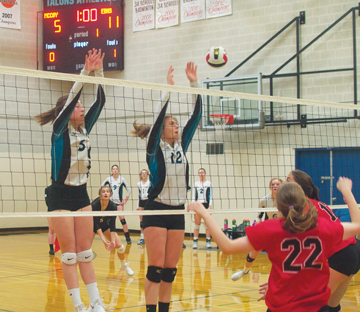 By Justin Seward
Commentator/Courier
The Eagle Butte Talons senior girls volleyball team were able to pull out a win in three sets (25-12, 25-19, 25-23) over the Mosignor McCoy Colts on Halloween on home court.
Head coach Maury Salmon was satisfied with the win but knows there is a lot of improvement that can be done heading into the home stretch of the season.
"I thought we played pretty good the first game and about halfway through the second game," said Salmon.
"Then we kind of let up. The first game and a half I thought we blocked really well and our (serving) was working for the first bit. But I thought we eased up."
He did praise the team for shutting down the Colts' top player Carley Donef before their cross town rivals started running steps, which was a little tougher for the girls to shut down and a defensive strategy the Talons will have to work on for their next match.
Despite the learning curves thrown at them during the win, both teams match up well against one another.
"Both teams come out to play," he said.
"And it comes down to a couple key defensive plays."
Salmon added since the first spike of the year the hope was have a breakthrough year and in over a week's time have a strong showing at zones and use their newer players and blend them in with the experienced hitters.
"The key for us is play our less experienced girls as much as we can and hopefully if we need them to step in at key times in playoffs, they'll be ready," he said.