Tigers draw Wheaties in Round 1 of postseason: MacPherson
Posted on March 28, 2018 by 40 Mile Commentator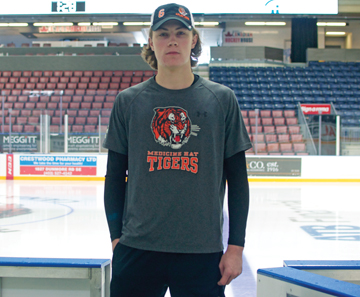 Photo by Justin Seward- First-year Medicine Hat Tigers defenceman Dylan MacPherson is learning the ropes in his first Western Hockey League campaign.
By Justin Seward
Commentator/Courier
The Medicine Hat Tigers have clinched the Central Division crown in back-to-back seasons and have set themselves up with a first round date against the Brandon Wheat Kings to begin the 2018 WHL playoffs.
"It's nice to win the Central Division," said rearguard Dylan MacPherson.
"We've been there all year. We've played hard all the time and it's nice to win it back-to-back, and having that home ice advantage is nice because then they have to travel here and we get to play in our home rink in the first two games of an important series."
MacPherson mentioned the pace of play that his teammates were playing at going down the stretch was fast and flying around the ice making crisp passes .
"We're going out there to dominate a game and not just going out there and hoping we're going to win," he said.
This will be the second consecutive year the Tabbies and Wheat Kings have clashed in the playoffs after the orange and black swept their Manitoba counterparts in four games last spring with the absence of Brandon's star player Nolan Patrick.
"They're still just as good as a team," said MacPherson.
"They still came out, they battled hard. It was hard series to play against. They came out hitting and it was a gritty series. We got the victory last year I'm hoping this year it's the exact same thing."
The Tigers were watching video prior to Friday's opener to tune in small details and make the team successful in the long run, said MacPherson.
"Last year we had an older group and made a big push but we couldn't get by Lethbridge," he said.
"This year we have a bit of a younger group but are still just as fresh and just as good as we were last year. It will be just as important to just keep pushing and not get discouraged by anything."
His defensive partner Linus Nassen, a first year from Sweden, said he likes playing alongside the Redcliff product because both players are a good pairing on the blueline with them being strong skaters and being physical.
"He's a leader in our team for sure," said Nassen.
"One of the older guys and we try to compare each other out there off ice and on ice and try to help each other as much as we can. If we just skate all the time and keep that up, it's going to be hard for Brandon's forwards to create that much in our zone. I think we have stick together and play our game."
It will be his first playoff experience in North America and he said it will be "unreal," with the crowd.The Tigers won Game 1 7-2 but lost both MacPherson and Nassen to injuries with a timeline for their returns uncertain.