A supportive attitude helping out the Talons cross country team
Posted on September 25, 2018 by 40 Mile Commentator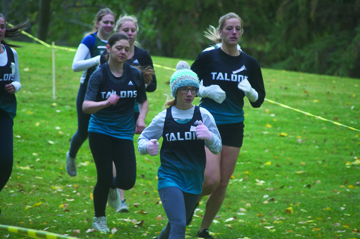 Commentator/Courier File Photo Grade 12 Eagle Butte Talon Kelsey Hamill leads her group around the opening corner during the 2018 Talons invitational
Justin Seward
Commentator/Courier
There were about a dozen local area schools that sent students to brave the winter-like elements to run the trails of Echo Dale Regional Park in the 15th annual Talons Invitational cross country meet on Sept. 22.
The host Eagle Butte High School Talons has a great start to the day as Grade 12 runner Terry Pearson led the race from start to finish in the senior boys category.
"Last year we had some really good runners, so I was following them, (and) it was nice to finally win a race," said Pearson.
Lots of clothes was beneficial for the runners in the cooler temperatures, but it was not as bad as it seemed once you started to run, he added.
Pearson took pointers the last few years off one of the school's recent stalwart athletes in Trevor Mickey, who he felt pushed him harder in training sessions.
"I feel like last year's senior group actually pushed me towards to where I'm at this year," said Pearson.
The Talons team cam together quickly this fall.
"It's a very close team group and we all push each other to work harder," said Pearson.
"It's definitely a different environment from last year. We have a lot junior guys. We don't have too many senior runners, which is unfortunate."
The goal now for Pearson and the rest of the squad is to train for the zones and then focus on a provincial berth in Vermilion.
Experience is what coach Darryl Smith wanted to see out of the runners in their home meet and to correct mistakes from the Vermilion meet.
"It's about limiting the mistakes we made in Vermilion," said Smith.
"Cross country is more than just running. There's learning hills. There's running down hill. We raced the flats and manage the hills and now is to streamline the mental part of the race. Especially at the start, be patient at the start and push towards the end."
Smith has been impressed with the students attitudes so far this year and the support they give one another.
"What I'm really impressed with is the kid's attitudes. Even when we were in Vermilion on Thursday and they just really get it and they really support other kids as well and we got a lot of feedback from that … Cross Country seems to be growing and in a positive way."
He said with the likes of seniors Pearson, Derien Larson, Kelsey Hamill and Lexi Waldbauer comes high leadership skills and trying to convince them to take on that role is purposeful.
"I always say to the kids that you have one shot at this. You've got to make the most of it," he said.
"For our own kids, we're saying 'Your job is school. Your job is to run. Your job is to enjoy high school.' That's the biggest thing. We're seeing more kids not having to do those things."
He hopes there are 60 runners that attend zones.