Irvine hockey coach receives Hockey Alberta award
Posted on January 22, 2019 by 40 Mile Commentator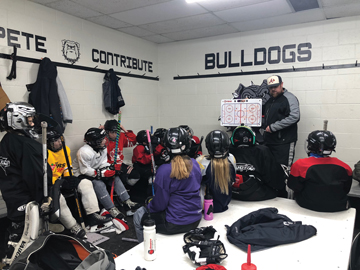 Photo Submitted by Cam Church IMPROVING PLAYERS: Irvine Bulldogs atom B head coach Cam Chruch draws out a drill for his team last week.
Cam Church has been coaching at the younger levels of the Irvine Minor Hockey system for five-years and for his dedication to improving players on the ice, he was the recipient of the Hockey Alberta Coach of the Month for December, which was awarded to him in early January.
The award goes out monthly between October and March to those coaches who are nominated by parents or groups within a team for their hard work.
"I was surprised," said Church.
"I wasn't aware they had that award. It was nice to be recognized, but it was a group effort. With that association in Irvine, we all support each other as a group of coaches. It starts at the directors and Sheridan (Siewert), he's our president."
"There's so many good coaches out in Irvine with so much experience. In order to get better, you have to learn from each other."
He has three hockey playing kids in Irvine and is an assistant coach with initiation senior Bulldogs, the novice majors and is head coach for the Atom B team.
"The priority is to have fun," he said.
"You want them (the kids) to come to the rink. At that younger level, to get the kids involved, it's not always about the game itself. A lot of times, you do certain activities on the ice that has nothing to do with hockey.
"The kids enjoy it and look forward to the next time on the ice."
When players climb up to the atom level, you want to teach them the principles of attitude, focus respect and hand work, he added.
Like any other rural Canadian town, Irvine has a passion for hockey and the atmosphere makes coming to rink and coaching a memorable experience.
"As soon as you walk through those doors, the rink staff are friendly, everybody knows everybody," he said.
"Kids pick up on that. They know its a positive atmosphere and they're having fun already. The rink is always an anchor point."
His goal will be to continue coaching as long as the kids are enjoying the game.