Bow Island officially lands Hockey Academy
Posted on March 24, 2021 by 40 Mile Commentator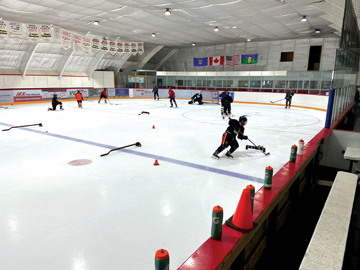 Photo submitted by Darren MacMillan Bow Island hosted an open house for the Willie Desjardins South Alberta Hockey Academy on March 13 at the Servus Community Arena.
By Justin Seward
Commentator/Courier
Bow Island will be the newest addition to the Willie Desjardins South Alberta Hockey Academy after a successful open house on March 13.
The open house was meant to see if Bow Island could attract at least a dozen skaters between Grades 3 and 11 to make the program work. The Academy will be for players on Grades 4 to 12nect year.
"We're going to go ahead in Bow Island and we're just going to make it work,"said Darren MacMillan, SAHA programs coordinator.
"That's my commitment. I'm pretty confident we can get a dozen kids there and run a good program."
There were 17 players that participated in the open house at the Servus Community Arena.
"I think it's a missing piece for our Academy and the school division and so I hope we can make it work," said MacMillan.
MacMillan says there isn't a deadline but the sooner players commit, the better program SAHA can commit to.
"It's tough on Scott (Angle, Senator Gershaw principal) to do timetabling and all the stuff. So the sooner people commit to it, the better the program is," he said.
MacMillan's hope is to see the timetabling organized where at least once a month, the older kids in Bow Island join the older kids in Foremost as well doing the same with the younger groups.
Players must be enrolled at Senator Gershaw or Bow Island Elementary to be in the Hockey Academy.