Foremost Flyers win back-to-back championships
Posted on August 3, 2021 by 40 Mile Commentator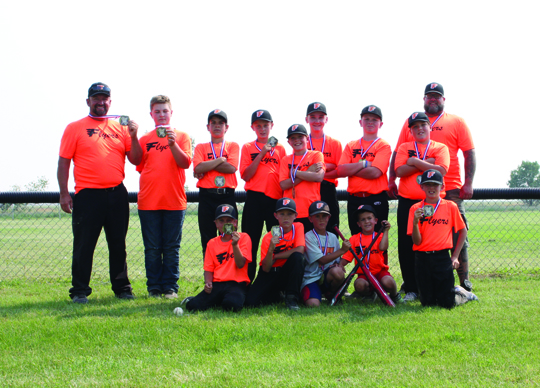 By Cole Parkinson
Commentator/Courier
After a dominant regular season, the Foremost Flyers majors baseball team finished the job with a nail-biting win in the championship final earlier in July.
After receiving a bye for finishing first in the division, the Flyers watched Coaldale and Picture Butte battle for a spot in the final game.
"The biggest thing was we had a bye into the final because we finished first," explained head coach Dale Bosch. "There were only three teams because of COVID, so Coaldale, Picture Butte, and ourselves. We went 7-1 during the regular season, so we got that bye into the final. Picture Butte played Coaldale to start with and Coaldale was leading 6-0 or 6-1. It looked like Coaldale ran out of pitchers and Picture Butte slowly came back and took them over in the last inning. So Coaldale got the bronze, and a couple of hours later, we played Picture Butte in the final."
Once the Flyers knew they'd face Picture Butte in the final, they knew they'd be in tough, especially since Butte showed their ability to come back if they were down.
With a five-run maximum per inning for each team, the Flyers started fast by scoring tons of runs.
Despite the early lead, Picture Butte once again showed their grit by mounting a hefty comeback, which put Foremost back on their heels.
"We five runned them two innings in a row so we were up 10-0, but they slowly came back. They started to hit us a bit, a few errors and pretty soon we were down two runs in the top of the last inning. Our pitcher shut them down and they didn't score any runs so we needed three to win it. We got a couple on and a couple in with one more guy on second. There was a ground-rule double hit and that brought the winning run in, so that was that," continued Bosch, who also explained how the Flyers' coaches got the team back on track heading into the final inning. "We said 'we worked all year for this. We finished first for a reason and we came here to (win). We won here last year and let's repeat.' We worked on that theme all year and I said 'it's up to you guys now. You've done great all year and do you want to win the gold or settle for silver? It's up to you.' They went out and did it, so I'm pretty proud of the kids, they were down a little when (Picture Butte) started coming back. We never tell them the score during the game, and I sometimes don't even know it."
Heading into the final innings of the game, Bosch himself had to check the score due to the high amount of runs scored in the first five innings.
"At the start, I have an idea, and this one was easy because we five runned them twice and they didn't score any. So I knew we were up a lot but then they started hitting us and they shut us down. I honestly didn't even know we were down two until the fifth inning when I asked the scorekeeper if we were close or up a little. 'You're down two actually,' she said, so I went back and told the boys we need to shut them down," added Bosch. "In the bottom of the sixth, we just sat them down in front of the dugout and said 'this is it. We're down by two and we need to get on the sticks.' The first guy walked, and then there was a single and that ended up in first and second. They had a couple of errors and ended up stealing one home. Another single and then that ground-rule double brought the winning run home."
"There was a softball tournament at the same time, so our time was backed up a little so there was a lot of people around and lots of softball teams were watching by then. Of course, the final had the home team in it so there were lots of cameras out and lots of noise. When that ground-rule double went over the fence, it was chaos."
"It ended perfectly. It was better than a blowout. It came down to the last inning and last out type thing, that's how a guy pictures it."
While the team finished with a 7-1 record at the end of the regular season, the coaching staff did begin the year prepared for some ups and downs due to the young ages on the team.
With only two 12-year-old players on the team, the Flyers relied upon several 11-year-olds and one 10-year-old.
"We were a young team and minors and majors are a two-year deal. Last year, we were an old minors team, so we did well. This year, we were turning it over and most of the kids are 11-years-old, we had two 12-year-olds and we even had a 10-year-old on the team — my boy is actually the youngest. I said 'we'll have a harder time because you are young majors and there is stronger competition.' In baseball, it's a big step and players get a lot stronger in a year. If you're a young team, you can have a tough time."
But after a strong start to the season, both the coaches and players realized they fit right into the league.
"They had that winning mindset right from the start and we push that in Foremost. We're here to win this thing," continued Bosch. "We'll have lots of fun doing it, but we're not here to place second. It's one of the mindsets we had to start with these kids and they love it, the parents are all for it. It's a really great atmosphere."