Inaugural Ranch Rodeo a major hit at Western Spirit Days
Posted on August 24, 2022 by Ryan Dahlman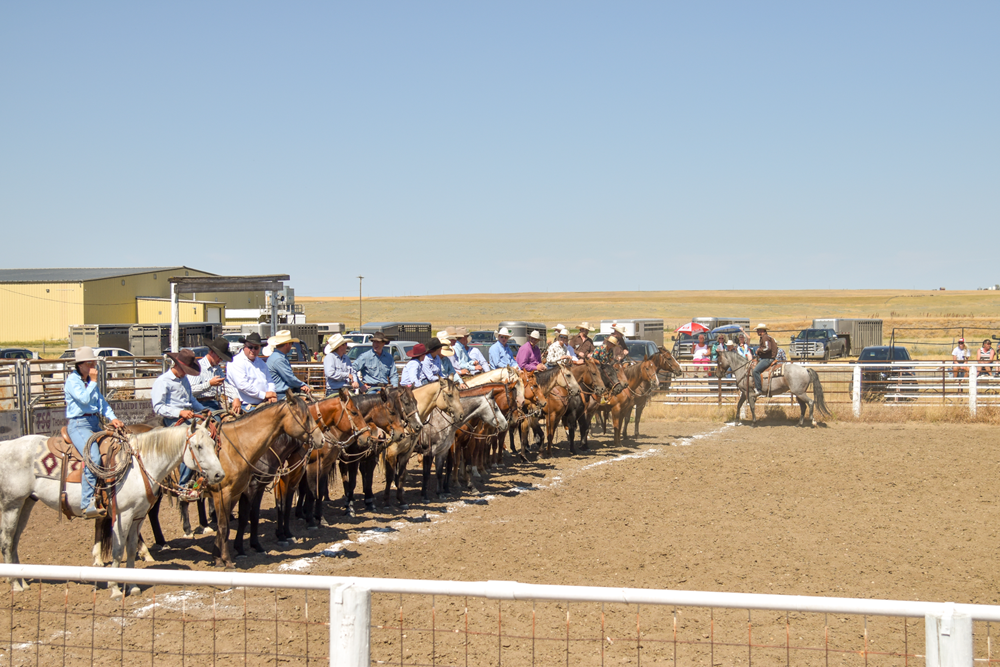 By Anna Smith
Commentator/Courier
As the dust settles on Irvine's first ever Ranch Rodeo, organizer Travis Noble is already looking forward to doing it all over again.
Noble has never organized anything of this sort before, but that didn't stop him from banding together with Marina Cole and others to put on the rodeo.
"That's the first one we've ever put on our little crew down there. And I think it's definitely the first time that's ever happened, and from the feedback we got it sounded like everybody was quite happy; the contestants as well as the crowds. That's exciting," said Noble.
The rodeo consisted of five events; a Stray Gather, Branding, Team Doctoring, Sort & Trailer Load, and Wild Cow Milking, with each event being participated in by the eight teams of four.
"Putting everything together actually wasn't too bad. We got it together pretty quickly and it was a little nerve wracking because it was our first real rodeo; just kind of a lot of nerves and trying to figure out how to do everything," said Noble. "But it seems like it all came together and we had some fun, and we got a really good crew anyways. And some really good team members here that made it all happen. So yeah, I couldn't ask for much better."
The hardest part was sourcing and getting all the cattle for the various events, said Noble, but after that was sorted, finding contestants and sponsors was relatively simple.
"The biggest highlight for me was to see a lot of local teams from the surrounding area to be out there," said Noble. "And then the support that came together through sponsors. And like we honestly don't think anyone's gonna show up there. So for people to be out there and show up and watch it in that heat to me, that was huge."
Noble and his team are already looking forward to next year, where they can take all they learned and hopefully make the rodeo even bigger and better than it's inaugural run.
IRVINE RANCH RODEO RESULTS: Here are the results from the Western Spirit Days Stray Gather – Reject Ranches; Branding – Hill Country Clothing?; Sort + Load – Crossover Triangle; Team Doctor – Cypress Crown; Cow Milking – Crossover Triangle; Overall – Crossover Triangle