U13 Bulldogs finish season as champions and lifelong friends
Posted on April 6, 2023 by Ryan Dahlman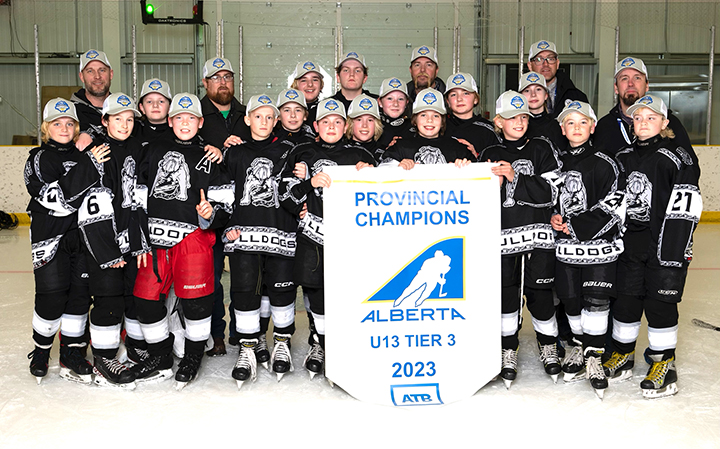 By Anna Smith
Commentator/Courier
A classic underdog story, the U13 Irvine Bulldogs made their way to Provincials as a wildcard and emerged champions.
The third tier CAHL team isn't entirely ready to be done with the season, said head coach Greg Knoll, but are definitely pleased to be ending the season on such a high note.
"All 17 players contributed, it was a team effort. They all did very well. You know, we had a routine that we stuck to it and everybody bought in, and (it) paid off in the end. They earned it, there was some tough hockey," said Gnoll. 
About half of the team was new at the start of the season, said Knoll, but all of the players put in their utmost effort, and all their hard work certainly earned them a mighty reward.
"We had a little inside joke going that we were pirates. They definitely were pirates. We went into the Provincials tournaments as the underdogs, and they went in and stole the win," said Knoll.
It's not just the players who can take all the credit, however.
"I gotta give props to all the coaching staff and especially our manager, a lot of hours put in you know, organizing behind the scenes that maybe not everybody realizes it goes into it, but there was a great effort put in by all the coaches," said Knoll.
Even beyond the title, said Knoll, the real prize is watching the players and the community surrounding them grow and develop.
"One of the biggest things that I noticed this year with this group, and not that any other group is too different. But, you know, there were some friendships with some players that had never met one another before," said Knoll. "And by the end of the year, you know, those friendships are lifelong, which is, you know, probably one of the biggest rewards or accomplishments of what happened this year."
"Not even just the players and the coaches but in all of the families just to see families are being introduced and you know, the older families that are returning families accepting them in," said Knoll. "All the teams were very successful this year. Not just winning titles, but developmental and friends and building the Irvine Minor Hockey name, as well."