Badlands Baseball earning nationwide reputation
Posted on October 26, 2023 by Ryan Dahlman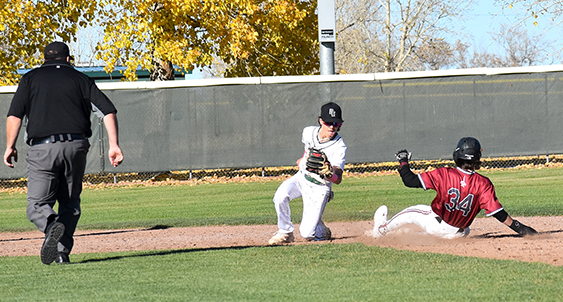 Commentator/Courier Photo by Meg Noguchi Sliding Home: The Badlands Baseball Academy played against Vauxhall Academy of Baseball on Oct. 14 at the Vauxhall Jets Stadium during a series of doubleheaders.
By Samantha Johnson
Commentator/Courier
Local Journalism Initiative Reporter
Prairie Rose Public Schools' Badlands Baseball Academy has been running for about a dozen years and continues to attract players from across the country. This year's team is comprised of five players in Grade 10, six in Grade 11 and eight in Grade 12, arriving at the academy from Nova Scotia, New Brunswick, Ontario, Saskatchewan and Alberta.
From September through to the middle of October, the team plays about 35 games before spending the winter practising five days a week at an indoor facility in Oyen. In the spring they are back outside and normally play between 45 and 55 games to conclude the year. The team travels around Alberta and B.C. and play multiple tournaments in the U.S. each year.
Head coach Nolan Rattai moved over to Badlands Baseball after previously managing the Medicine Hat Mavericks.
"The aim (at Badlands) is to prepare them to be able to go succeed in college down south," stated Rattai. He added that nearly all players from the academy manage to secure scholarships in the States.
Badlands Baseball Academy employs a full-time massage therapist and works with a strength trainer and nutritionist. Players choose to come to the academy because there is "better competition, better coaching, more resources," said Rattai. "Just a better environment to prepare yourself for college and play better teams."
All players on the team attend South Central High School in Oyen. The players' final block of each school day is scheduled for baseball.
"In season we go six times a week and in the off season, five times a week," said Rattai. "It's at least two hours each time we go. In season, you're looking at least 15 hours a week, and out of season, 10-12 hours."
There are several ways for players to find their way to Oyen. Both Rattai and pitching coach Zach Zinc travel the country each year watching baseball, and if they see a player they like, they will approach them to discuss coming to Badlands. Other players interested in the academy will send in a video and if Rattai likes what he sees, he will go watch them play. Alternatively, a player can also travel to Oyen for a tryout.
Dryden Pidlisny is in Grade 12 and this is his third year with Badlands. He is originally from Burstall, Sask. and has played ball since a young age.
"I was looking for somewhere to play more baseball all year and I found out about Oyen," Pidlisny said.
During his time at the academy, Pidlisny says his game has immensely improved. He plays second base and explained, "It gets lots of action on the diamond and you have to pay attention to lots of different things."
Pidlisny doesn't have any concrete post-secondary ambitions yet, but definitely has his eyes on playing ball at a college down south.