Bow Island & District Health Foundation's Garage Sale makes a welcome return
Posted on May 26, 2022 by Ryan Dahlman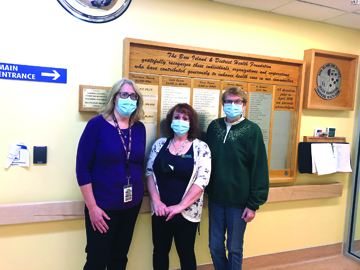 Commentator/Courier Photo by Samantha Johnson From left, Debbie Shaw, site manager of Bow Island Health Centre, Brenda Liggett, acting chair of Bow Island Health Foundation and Alta Magee— secretary for Bow Island Health Foundation spoke the Commentator about the how COVID has made an impact on fundraising efforts.
By Anna Smith
Commentator/Courier
Eager to get up and going after a two year break, the Bow Island & District Health Foundation is gearing up for their biggest—and most intensive—fundraiser of the year.
This year, they're going to run the Garage Sale somewhat differently, said Alta Magee, who was "involved with the first garage sale and involved with every one since."
"In the past, we just ran it for one day," said Magee. "And that was Saturday and we were at it from 6:30 in the morning until 3:00 in the afternoon and that was it. This year, we're doing it a little bit differently. We're going to open for a couple hours on Friday evening. Do the 6:30 a.m .thing again on Saturday and run it until four, and then Sunday, we'll do 1–4 in the afternoon."
Between the level of excitement generated by the event returning, and more time allowing for a more spaced out shopping experience for those who may still have anxiety regarding crowds after COVID-19, Magee hopes that this will allow for everyone who's interested in finding some treasures and supporting the hospital to come out.
This year marks the 30th Garage Sale, though Magee notes that it would have been the 32nd if not for the 2 year break imposed by public safety measures.
"We're back now after COVID and hopefully doing bigger and better than ever, hopefully," said Magee. "This is probably the most labor intensive fundraiser that we have, but it's also one that I always say is the greatest because it involves the whole community and is one where we have a lot of community volunteers. We basically involve as many people as we can and we try to do the best we can with what we get in."
Anything not sold during the sale will be donated, said Magee, to a suitable cause. She mentions the nearby women's shelters and the diabetes association as examples, as well as having sent clothing to Haiti and Mexico in previous years.
"Basically we try to help as many people as we can. And in the meantime, we're raising funds for the hospital. It's a best of both worlds situation," said Magee.
The community involvement this year has been fantastic, said Magee, with both the donated items for the sale and with their time to help set up at the arena.
"We have a lot of people that come back year after year and volunteer their time to help sort and put things out. The town gives us the arena free of charge. We don't have to pay rent. We involve the school. We normally get the grade 10th class to help us set up and clean up this year. We're hoping to involve a couple of classes," said Magee. 
The sale will begin at 6pm on Friday, June 3rd, through the 6:30 a.m. people have come to expect will still happen on the Saturday.
"The 6:30 in the morning is because when we started it, we started with hospital staff. Well hospital shifts run from seven in the morning either till three or till seven if you're working twelves, so we started at 6:30 so that people going to work on days could shop before they went to work. Or the people getting off nights could show up before they went home," said Magee. "We wanted to involve them as much as we could."
Since then, of course, the event has exploded out to the entire community, now spanning several days, nearly 100 volunteers in previous years, and including a silent auction.
"Sometimes it gets kind of competitive," said Magee. "People will come in and they'll bring their donations in and then they'll walk around. We always encourage them to walk around and see what's there. They scout out for the morning of the sale or the sale itself so they know where to go and what they want. We often get stuff that's never been used, or very lightly used. And we put that on silent auction bids. And we've had everything from Royal Albert China to a Jeep or a motorcycle, or a Foosball table. The donations are phenomenal."
Donations drop-off begins on Saturday, May 28th, and continues until Thursday, June 2nd, said Magee. This allows time for volunteers to sort through, set up, and price everything in time for the Friday evening sale.
Magee encourages everyone to come out and show their support for the hospital and the community at large, and to find some treasures to take home while they're at it.