Foremost pool getting close to opening
Posted on June 2, 2022 by 40 Mile Commentator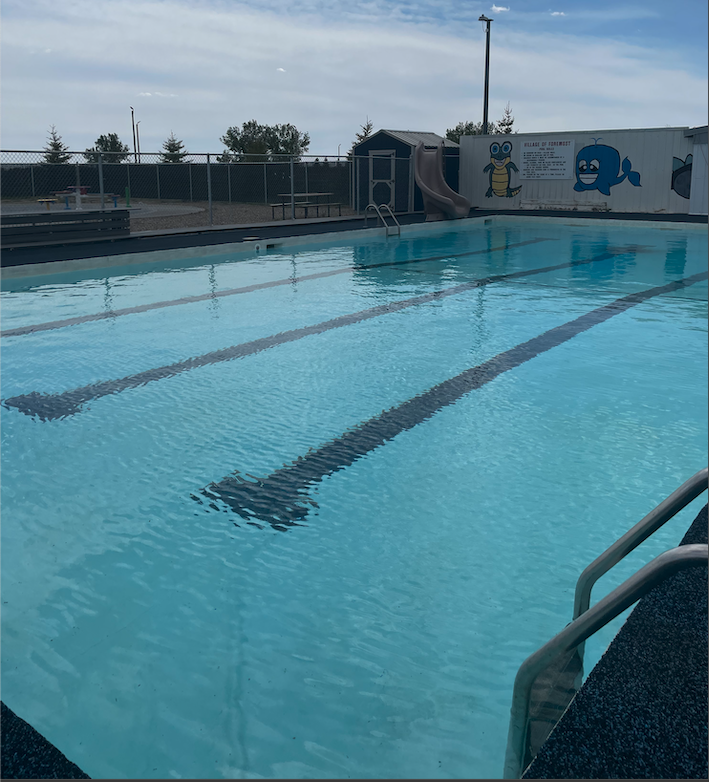 By Anna Smith
Commentator/Courier
Excitement abounds in the village of Foremost, as the Foremost Pool gets ready to make a splash with their opening for the summer season.
The work to prepare for the June opening is well underway, said Chief Guard Sascha Beacome.
"We already have all our staff ready. And then we have our first kind of training on the 31st of May just to kind of show whoever's new what we do and how to get everything ready," said Beacome. She expects the pool will be washed and filled by the end of the week at the time of the interview.
"To be ready for opening, we have to clean the pool; we have to wash it, drain it," said Beacome. "Update our forms from the lifesaving society. We updated our pool policy manual, and just kind of like, set up everything for the pool and just get all the admissions ready."
Become has been working at the Foremost Pool since she was 16 years old, not including the year that it had to remain closed due to health precautions. She notes that the village is very excited to return to one of their favorite social hotspots this summer.
In addition to safety precautions and cleaning, the staff at the Foremost pool have also been hard at work planning events to make the time on deck even better for residents.
"We're gonna be having movie nights every month. We're going to be having theme days," said Beacome. "For example, one of our theme days is pirate day and they can come dressed up as a pirate, the lifeguards will be dressed up as pirates. We just kind of have themed days where we can have scavenger hunts and kind of like do things around the pool with all the kids who come."
Movie Nights are a much-beloved returning feature and partnership with the FCSS Summer Fun Program, with movies projected on a screen for those looking for a midnight swim and a feature film, one of Beacome's favorite activities from when she was a child coming to the pool as a visitor instead of staff.
In addition to these, the pool is still planning out their fundraisers for the year, and swimming lessons will begin on June 6th through to August 19th.