Painter Girl works her magic at Susan Andersen Library 
Posted on June 2, 2022 by 40 Mile Commentator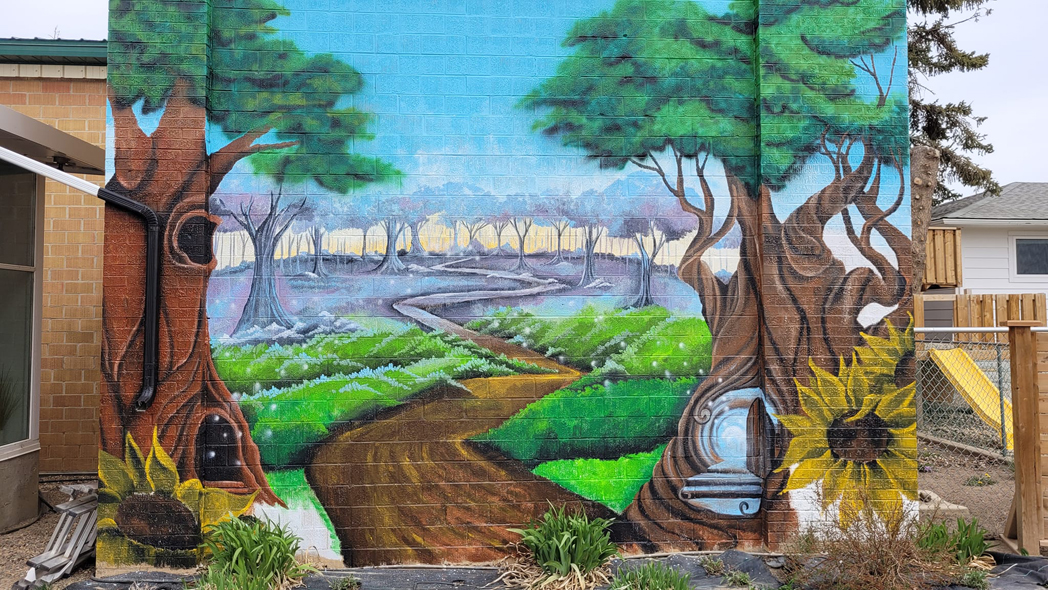 Library wall has been re-done.
By Anna Smith Commentator/Courier
The wall of the Susan Andersen Library has become a trail into adventure with the help of Medicine Hat's own Painter Girl. Christy Leigh-Anne Vince was only able to find time to talk while up on a ladder, painting a garage door for one of her many clients, as she's been largely fully booked between murals, or An Evening with Paintergirl, where a group gets together to all paint the same image under her instruction.
Vince describes herself as "living the Canadian dream."
"Medicine Hat-born and raised, married my high school sweetheart. We've been together 30 and married for 24. Two kids, I did the Medicine Hat college three years diploma program for graphic design, did the visual communications program and finished that in '96," said Vince. "I did my first mural when I had kids, and the first set of Windows was when my father-in- law bought the Redcliff Bakery."
Painting windows was an interesting transition for Vince, significantly different from working on walls or canvas. "Windows, it depends on if you're working on the inside or the outside, if you're working from the inside out, you have to work backwards," said Vince. "So any lettering has to be done backwards. Any outlining needs to be done first. You know, it's essentially putting up a colouring book page and then putting in all of your highlights and lowlights and then colour goes on last, and you have to fight with the glare of the elements outside."
While working outside allows for a more traditional painting order, said Vince, it forces you to contend with water and other weather conditions, which can lead to the paint compromising. Despite this, Vince adds that she prefers to paint on the outside of windows, as they tend to be brighter. Vince adds that kids coming by and scratching explicit images or their names into the paint is also a risk of painting on windows, but it hasn't been enough to deter her yet.
"I've asked, but I'm not allowed to put up, you know, little signs that say I will cut your bloody fingers off if you touch my painting. I think currently, that's not allowed," said Vince. "That might upset some people."
Over the years, Vince has learned "a few tricks," doing everything from grand murals to face painting, as well as the business side, learning what pricing works here in her stomping grounds in and surrounding Medicine Hat. One of these projects being the new mural at the Bow Island Library, which began when Library Manager Kathryn Van Dorp approached Vince about creating something special for the building.
"I've known Kathryn for a few years, we've set up a couple of paint evenings through her, and I've known her through the library," said Vince. "She had a vision for the back […] she loves plants. And she loves florals. And it's this beautiful, beautiful little sanctuary behind the library behind the solarium that was just finished. And she wanted to paint something just magical back there. And she says, I'd love a garden, and I think, 'we need to do the Secret Garden."
The mural features swirling trees full of hidden doorways, as well as a trail that leads off into the far distance of an unknown and magical forest. Vince notes that she made sure to add sunflowers and ladybugs, which are Van Dorp's favourites.
"I wanted to keep my colors, like just magical, you know, lots of purples and, and lots of color and something that would spark the imagination," said Vince. "I've done quite a few murals through the years. And every time I try to do one that's different from anything else. You know, if you're paying for the artwork, then let's do something that is original to your place. So a lot of my artwork isn't the same. It's similar, but it's never the same. But the library is completely different from anything that I've done."
Vince has done numerous projects in the smaller communities in Southeastern Alberta, including Oyen, Foremost, and Leader, Sask. She encourages everyone to find their passion and what makes them happy, as painting has done for her.
"I just tell everybody to find their creativity. All right. Everybody is an artist in one way or another. I know I hear it quite often, 'I wish I was that talented. I wish I had your talents.' Well, you have a talent," said Vince. "It might not be painting. It might not be drawing. But it might be something as simple as making somebody smile. Find that happy place that makes you happy and just keep going."