Bow Island Building Supplies expands
Posted on June 8, 2022 by 40 Mile Commentator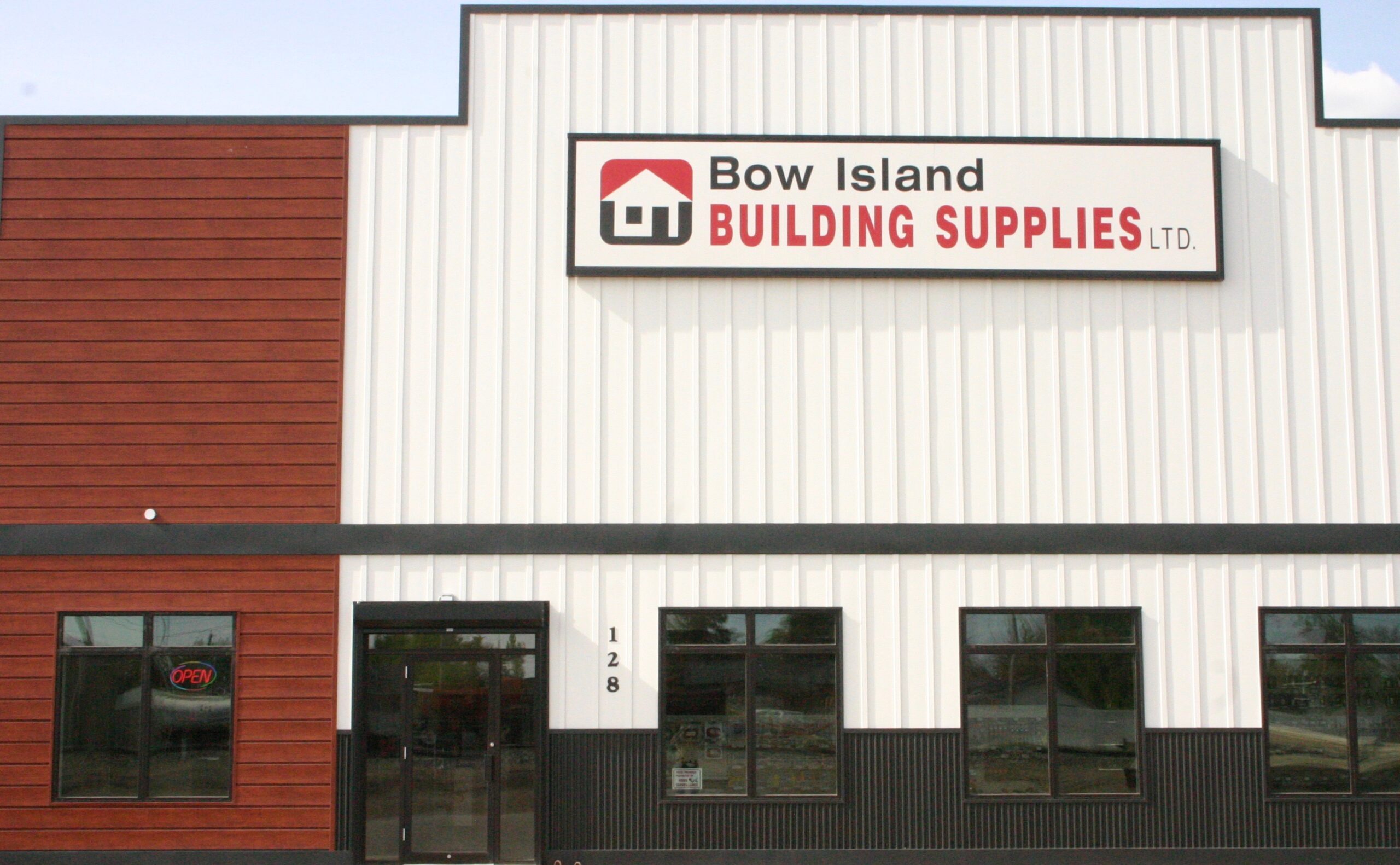 By Samantha Johnson
A new building stands in Bow Island, with high ceilings (16.5 feet), lots of natural light and room to move around and find what you need. Bow Island Building Supplies now takes up more square footage on North Railway Avenue West between Centre and First Street West. The new building, which is situated beside the original one, officially opened on Tuesday, May 24th.
Owners, Bentley and Chrystal Penner, bought the business in back in 2007. They had been farming before but felt it was time to move on and Bentley had worked in construction previously. When the opportunity arose to buy Building Supplies, they took it and haven't looked back.
Lance Penner, their son, was still in middle school in 2007 and helped after school. As he got older, he took on more responsibility and now, at 28, he is taking on more and more of the business. It is busy times for everyone in the family, and happy as well, with Lance and his wife welcoming their new daughter home three weeks ago. "It's been quite the season for us, opening a new store and having a little one," said Lance.
The new building essentially expanded their hardware department. The other thing they were able to do is to be able to display everything properly, rather than having some of the merchandise out in sheds. "This was a dream of Dad's," said Lance.
"When we bought the business, we renovated the original building to make it look good and made it comfortable, putting in a furnace and air conditioning." added Bentley, "The ceiling height was against us though at only 8 feet and, although we tried not to make it look crowded, we had to move more displays out. We had it lit up pretty good by adding lots of light, but there were no windows. Now it feels like we have space, it just feels good. I always tell people this is the best job I've had," said Bentley. "I'm in my sixties now and he (Lance) is taking over more."
They planned to be open by Christmas, they started building at the beginning of May in 2021 and thought, at the time, that December would be a good time to open the new store, but it didn't work out that way due to supply issues, along with the learning curve that comes from putting up a building from scratch. "Realistically, it didn't take that long, we broke ground in the first or second week of May last year, so we were barely a year to get it open," said Lance.
"We did the overseeing ourselves," explained Bentley. "There were some delays, but we were okay with it, we didn't want to rush it. We kind of enjoyed it except it was too busy as we had to keep running the business. We didn't do any of the work ourselves, except for the stuff that nobody wants to do." This includes all the little things, such as putting up the sign, and other finishing touches.
"We couldn't do this without the community," said Lance. "I keep telling people, you have to have a community to make this happen. We are very thankful for the support we've had." Bentley added, "it seems like everybody is excited about it and we are too."
Bow Island Building Supplies Ltd. is located at 124-128 Railway Avenue West. Phone number is 403-545-2181 and website is bowislandbuilding.ca.