Rural Community Fund of Forty Mile celebrates a happy evening of giving
Posted on June 23, 2022 by 40 Mile Commentator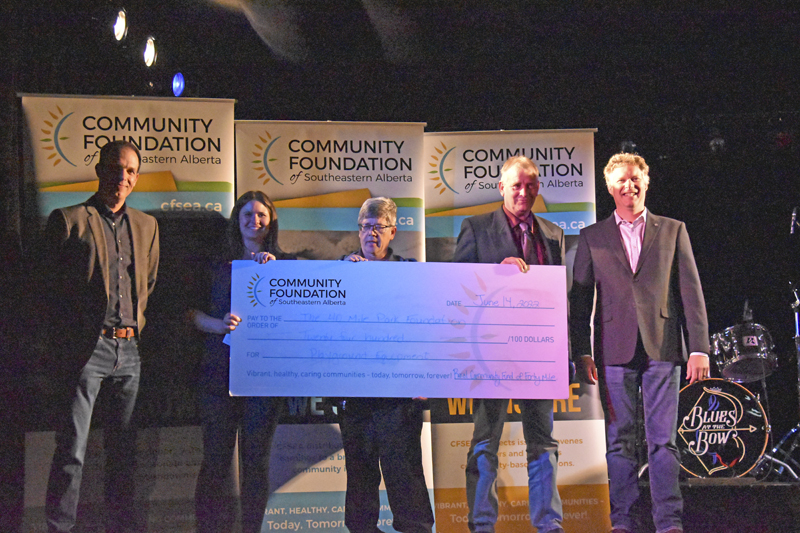 The 40 Mile Park Foundation recipient Rob Ficiur and Allen Kuizenga pose with their community grant with Rural Advisory Board members Clint Thacker and Curtis Gouw, and CFSEA staff Niki Gray.
By Anna Smith
Commentator/Courier
Blues at the Bow was full of not music, but applause and generosity, as the Rural Community Fund of Forty Mile celebrated three years of growing, giving, and inspiring.
The event was sponsored by Stingam LLP, Nutrien Ag Solutions, and Viterra, as well as Blues at the Bow, which donated their space for the evening for the Forty Mile Fund to share their success stories, as well as give out grants to members of their communities.
Before the fund was established, requests made from the county residents would be seen by the larger organization, the Community Foundation of Southeastern Alberta, which was a "unique way of doing things," said CFSEA Executive Director Niki Gray at the event.
"We are incredibly grateful for the volunteer committee ensuring that they are recognizing the needs of their community and helping allocate these dollars to stay within the County of 40-Mile," said Gray.
The rural fund has been a large part of its communities over the past three years, including helping with the allocation of COVID funds from the Government of Canada during the height of the pandemic.
This generosity continued during the celebration, far beyond snacks and cake given to attendees, as three Community Grants were awarded as part of the night. These presentations included Foremost Minor Baseball for $4,700, Bow Island Minor Baseball for $1,500, and The 40 Mile Park Foundation for $2,400.
In addition, the Vital People Award was presented to Maria Sprenkels, who works for the Bow Island and District Health Foundation.
While Community Fund Coordinator Sara Weatherhead will be stepping down at the end of the month, her spirit of hard work and generosity will continue both in her life and in the other members of the fund as it continues to give where it lives, hopefully for many years to come.