Foremost graduate thrilled to be racing on to college rodeo
Posted on August 10, 2022 by Ryan Dahlman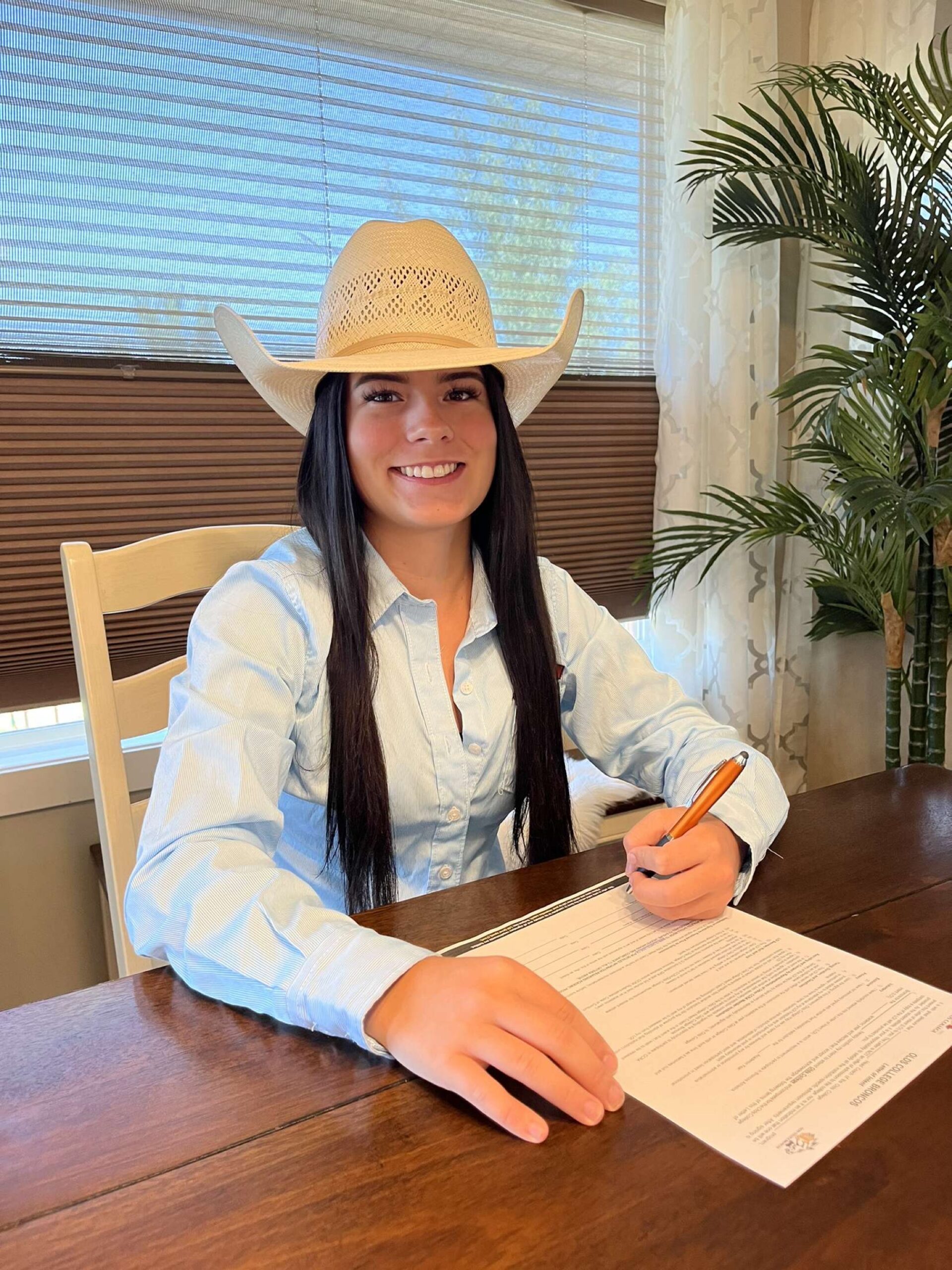 Brynne Ellert poses for a portrait as she signs her agreement to be on the Olds College Broncos Rodeo team. Photo submitted by Jenny Seward.
By Anna Smith
Foremost's own Brynne Ellert and her horse Dolly are chomping at the bit to take their skills on out of high school rodeo and to the next level, having been accepted onto the Olds College Broncos Rodeo Team.
Ellert started her rodeo journey in grade 10, when she first entered high school rodeo.
"I was just on a little horse that I started on and kind of worked out from there. I've ridden, I think, four horses throughout my high school career. And now I'm on my little mare that I got last winter for college because I wanted to train on myself," said Ellert. 
The mare, Dolly, has been both a delight and a unique challenge to train, said Ellert, with a strong spirit and a lack of prior training, something that all of her previous horses had already been given. 
"It's been a challenge. The first time I got on her and I was riding her through the field. She flat out bucked me off and left me stranded in the middle of the field during the winter and ran home. In her first rodeo she smashed her head open on the trailer and was bleeding out of her forehead," said Ellert. "She bucked a lot. She's flipped over backwards before, it's very intense."
Still, through the frustration, Ellert relishes the challenge that comes with training her own horse. 
"Now that we got to know each other, she's actually a sweetheart, but she does still have an attitude," said Ellert.
Ellert's events of choice are barrel racing and pole bending, and the competition in these fields for women is remarkably stiff, only adding to how accomplished she feels to be selected for the college rodeo team.
"So in barrel racing in high school rodeo. There's around 70 In just our district. So there's three districts in Alberta. And so we're in district one, there's about 70 barrel racers around 60 pole benders," said Ellert. "In the guy's events, there's about three bull riders, like five bronc riders."
Ellert was already planning to attend Old's college, taking two years there for agricultural management before she intends to move on to the University of Lethbridge to finish off her bachelors' of science. 
While she didn't always have a full appreciation for her family's profession in agriculture, she's since found her passion and can't imagine not working outside.
"Since I was already planning on attending, I sent him a couple of videos; the rodeo coach up there. I sent him a couple of videos of me pole bending and barrel racing. And he got back to me and said, "you definitely have a spot on the team'' and then sent me the papers," said Ellert.
Ellert is looking forward to striking out on her own to discover what kinds of opportunities await her, but she'll never forget Foremost, where she's lived since she was 3 years old.
"I'm ready to leave, but I know I'll always be able to come back. And everyone's just gonna be as friendly as usual. Foremost is a very, very close community. Everybody knows everybody. And everyone is so passionate about rodeo, and so welcoming about it that they just want to share their passion with everyone else. So I think it's definitely given me the opportunity that I needed to get started." said Ellert. 
As far as her skills go, Ellert attributes them to a mindset of competing more against yourself than against the other entrants in your event. 
"I go in there and I go in and I want to be two tenths of a second faster than my last round was or I want to have a tighter barrel or I want to weave through all the polls. Two seconds faster than the time before just racing against myself," said Ellert. "I feel if you keep going by that mindset, soon enough, you're in the top five competing with everyone else."
Above all, Ellert is looking forward to honing her skills, working with more younger horses to teach them what they need to know to carry other rodeo enthusiasts to greatness, and simply seeing what else lies ahead for her future.