MPs 'energized' over new CPC leader
Posted on September 21, 2022 by Ryan Dahlman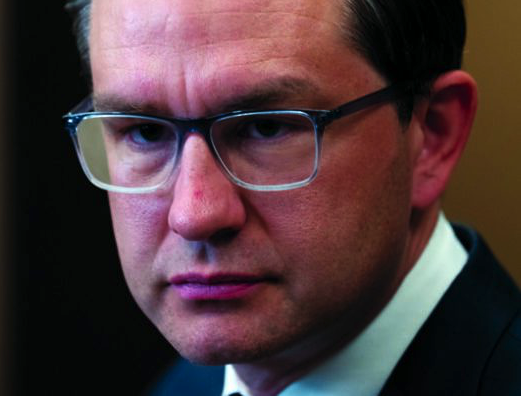 Pierre Poilievre
By Collin Gallant 
Alberta Newspaper Group
Area MPs are excited to have a new Conservative Party leader Pierre Poilievre, who received a bonanza of votes in southern Alberta.
Party members in five constituencies south of Calgary pushed their ridings into the top 15 out of 338 ridings in terms of total number of ballots cast, with a higher percentage of those votes going to the former finance critic who now leads the party.
Poilievre received about 68 per cent of the party votes across the country to win on the first ballot counting, but he garnered more than 80 per cent in a number of Alberta ridings.
Party voters in Medicine Hat-Cardston-Warner showed 83 per cent support to Poilievre, well ahead of second-place finisher Leslyn Lewis with 12 per cent, when the results were announced on the weekend.
The local riding was No. 21 in terms of total ballots cast in the party contest.
MP Glen Motz called the victory a "win for all Canadians" and that "the party is really energized."
"It is really gratifying to see the support he got from all across the country," said Motz, who hosted Poilievre with the local riding association in March.
A sell-out crowd of 600 attended the association fundraiser at the Cypress Centre and heard the candidate rail against Liberal government spending and outlined affordability as a top issue under a Poilievre-led Opposition.
On Tuesday, the government announced increased GST rebates and other grants and initial dental plan items to address inflation.
"These affordability programs come at the expense of the taxpayer," said Motz. "Canadians don't want big, government programs. They want lower taxes, an end to the carbon tax and lower payroll taxes."
Party members in Medicine Hat-Cardston-Warner returned 2,787 ballots in the mail-in leadership contest.
Bow River, including Brooks, was No. 15 in that regard with 3,146, including 2,651 for Poilievre, equating to 84 per cent first-ballot support.
Bow River MP Martin Shields released a statement congratulating the Ottawa-area MP who grew up in Calgary on his win.
"With such a resounding victory as it was, the Conservative Party has never been more united," he wrote, later stating top concern was defeating the Liberal government to address government spending.
Caucus would work to "once again make Canada the greatest country to live on Earth."
Turnout in the party contest was highest in two ridings in southern Alberta. Foothills saw 5,062 votes counted and Banff-Airdrie 4,523.
Ottawa-Carleton, which Poilievre represents in Parliament, was third, followed by Red Deer-Mountain View and then Battle-River Crowfoot, which includes the Special Areas in eastern Alberta.
The remainder of the top 20 constituencies in terms of voting were in Alberta or British Columbia, which was represented by two Kelowna-area ridings.
In the notations vote, Poilievre was followed by former Progressive Conservative cabinet minister and Quebec premier Jean Charest (16 per cent), Ontario MP Lewis (10 per cent), Ontario provincial politician Roman Baber (5 per cent) and Ontario MP Scott Aitchison (1 per cent).
Results in Medicine Hat-Cardston-Warner were Poilievre 2,319, Lewis 323, Baber 67, Charest 59 and Aitcheson 19.
Voters in Grasslands-Cypress Hills riding of Saskatchewan voted 1,773 to Poilievre out of 2,441 total votes.