While not a dud, it was 'disappointing' spud harvest
Posted on December 8, 2022 by Ryan Dahlman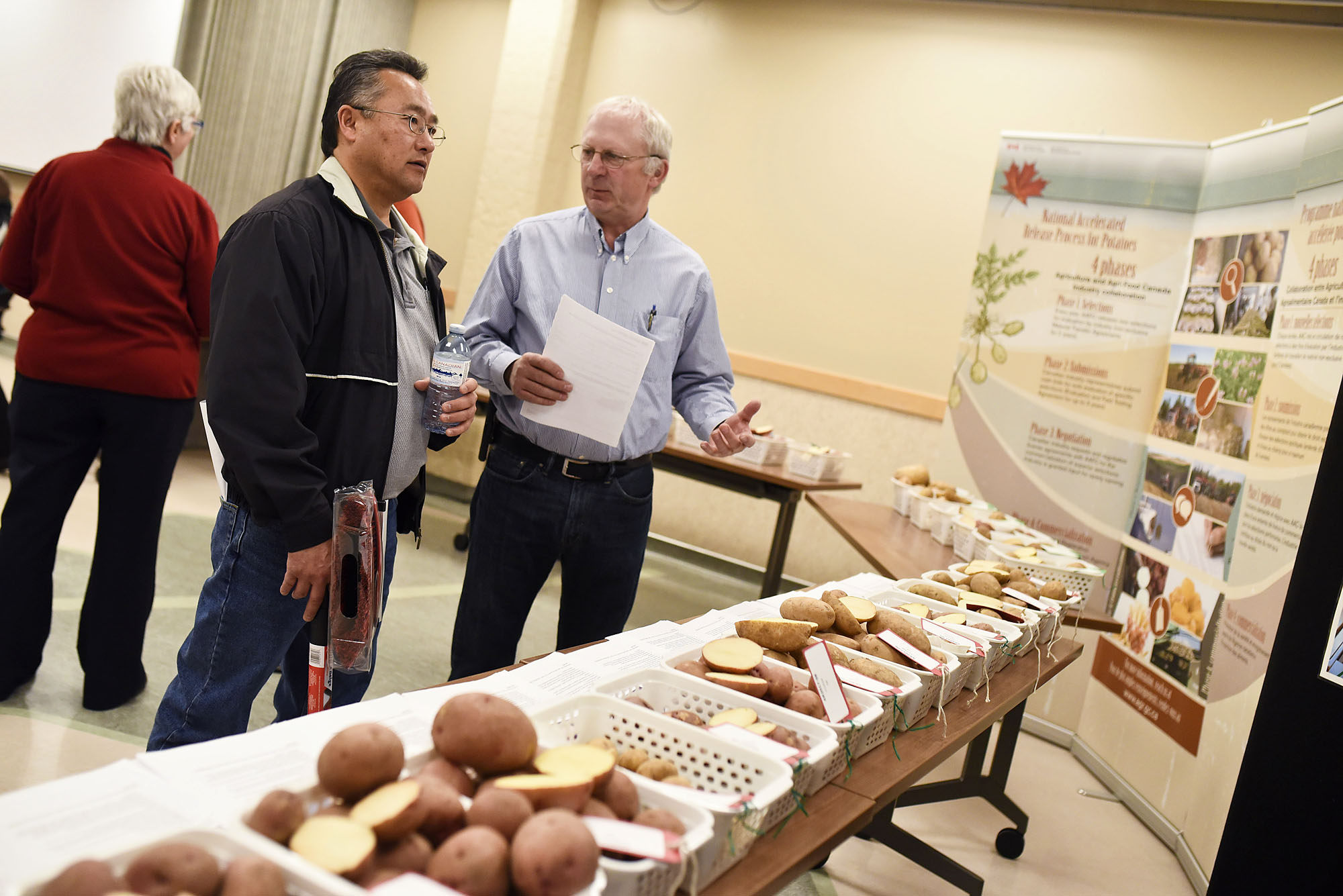 © Lethbridge Herald photo by Tijana Martin Terry Morishita, left, and Ludwig Reicheneder chat while browsing through the 15 new potato varieties that are being released by Agriculture and Agri-Food Canada during a potato release open house event at the Lethbridge Research and Development Centre a few years ago.
By Anna Smith
Commentator/Courier
Alberta's potato producers saw a hard season this year, but even a disappointing yield is a veritable mountain of home-grown gold.
This year's harvest was "disappointing," said Terence Hochstein, Executive Director of Potato Growers of Alberta (PGA).
"This spring was too cold and too dry. We are in irrigation here in southern Alberta, but I've got a bunch of other growers across the province that don't have that, and it was just too cold and too dry for too long." 
The resulting yield was below the five-year average, said Hochstein, largely across the board of the over 200 varieties of potato grown in the province.
"Quality was excellent," said Hochstein. "The profile was a little bit smaller than where we've been more used to and when you get a smaller size profile, you get less yield, just because the potatoes aren't as big. I think that was part of the issue, but the quality was really, really good."
This less than average yield was still 1,340,650 tonnes of potatoes, notes Hochstein, which includes all varieties. This equates to roughly 2.6 billion pounds, though PGA officials would have preferred to see closer to the 3 billion mark. 
"Put that in perspective: you go to the grocery store, and you pick up a pound of butter. Put that in your hand, we get 2.6 billion of (butter block) poundage-wise."
"A lot of people don't understand the magnitude of his industry. For the first time ever, this industry planted over 70,000 acres. We had 73,000 acres this year. So we are growing," said Hochstein. "There's a new potato chip plant that was opened up in Airdrie, so that helped the growth."
PGA also continues to invest in various development projects. What, precisely they have in store for the coming year the Executive Director won't reveal just yet.
"We continue to invest heavily in research for the industry. With this next round of provincial federal CAP funding coming out, we'll see where that takes us, but we will be a part of that. We're continuing to look for improvements and expansion in our industry," said Hochstein.