Redcliff Youth Centre will be buzzing with activities
Posted on June 8, 2022 by 40 Mile Commentator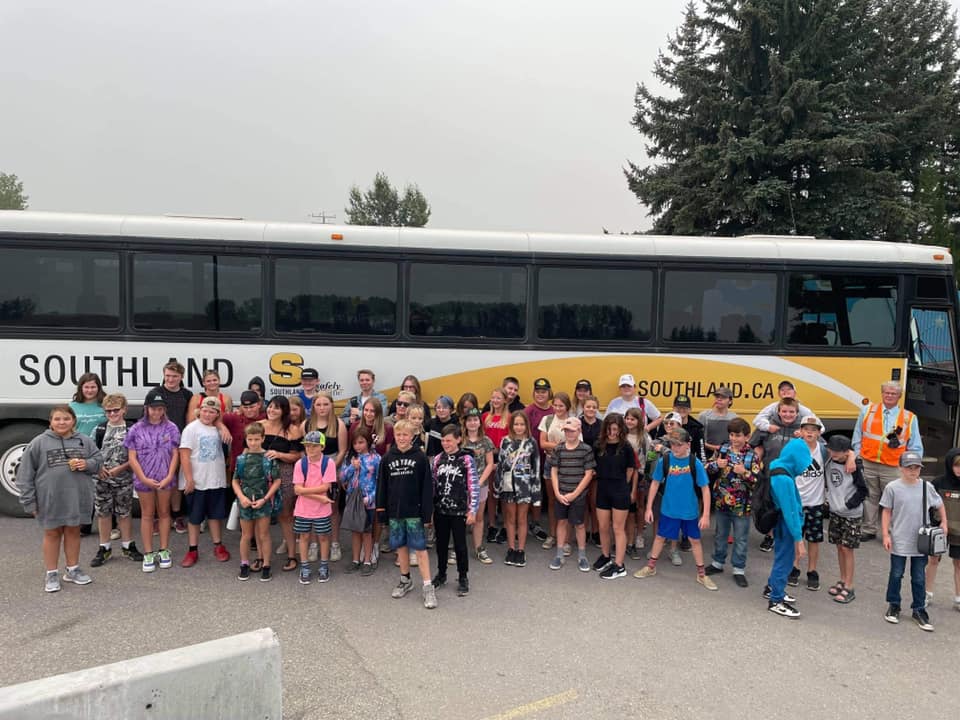 Commentator/Courier photo submitted by Taylor Bartram Pictured: Redcliff Youth Centre youth and staff before leaving on our trip to Calaway Park in Calgary.
By Anna Smith
Commentator/Courier
The Redcliff Youth Centre is gearing up for a busy season, with 313 kids and counting currently registered.
While the Centre was able to provide online or drop programming off at individual houses, there's a sense of joy and excitement surrounding the return to in-person activities and programs, said Taylor Bartram, Executive Director of the Redcliff Youth Centre.
"We've remained strong, having more youth registering lately, in the summer months, as we've been getting a lot busier. But overall, I'd say that we adapted to what was going on in the world. And we're happy that things are just going up from here now," said Bartram. "We've got a lot planned in the next following months."
Those plans include several fundraisers to keep this pillar of support for Redcliff youth up and running, as well as summer programming to keep youths engaged and connected outside of school.
"One of our fundraisers is our chip in for kids. So texting our code, KIDS193 to 30333, allows us to have a donation up to $30. As well, we have our Redcliff dunk tank coming up for Redcliff Days here on the 18th," said Bartram. "We have a couple of principals joining in and some council members that will be being dunked as nominees. We're also open to other nominees that are wanting to join in on the fun."
Some of the programming in the works includes heading to the YCMA at the end of the month, to participate in their Teen Night, as well as an all-nighter, which doubles as a fundraiser as the youth pledge to stay up until morning.
"Normally has a lot of fun activities to keep them occupied and awake," said Bartram. "And then usually starting in the fall, we start to plan our haunted house, though we are always looking for some volunteers because we were wanting to create a volunteer committee this year."
Running and setting up the haunted house takes a lot of work, said Bartram, and this year they're hoping to get some extra hands to either work as scare actors or run the registration booth, or even help with setup and teardown, to allow for the Centre to have sufficient staff and stay open while the house is running.
"It's one of our biggest fundraisers, and it's a lot of fun working in and planning it. So we're hoping that others will want to join in with that," said Bartram. "Sometimes we have up to 300 to 500 people coming through our haunted house a day. So it brings out a lot of people to interact with one another."
These community events, among other things, is what makes having a Youth Centre so important for Redcliff, said Bartram.
"We are the only youth centre out in our community. And we focus on mental health and wellness as well as life skill building, just implementing those vital life skills, teaching kids healthy coping mechanisms, focusing on their strengths and integrating them into the community just so they can reach their full potential," said Bartram. "Yeah, within this developmental period they are in, they are at risk for falling into so many different things and they're dealing with so many different things. So to be able to have a safe, inclusive environment for them to use their time constructively is, I think, an important thing to have in the community."
The centre currently sees roughly 20–30 youths a day, said Bartram, and has several programs that run 5 days a week to help meet these needs.
"We try to create a home-like feel here for all youth to feel welcome and inclusive and safe. So we are very happy to be a part of the community and serve a large number of youth. And hopefully, it's just continuing to grow from here," said Bartram.