Flying for HALO an honour for quartet
Posted on June 16, 2022 by 40 Mile Commentator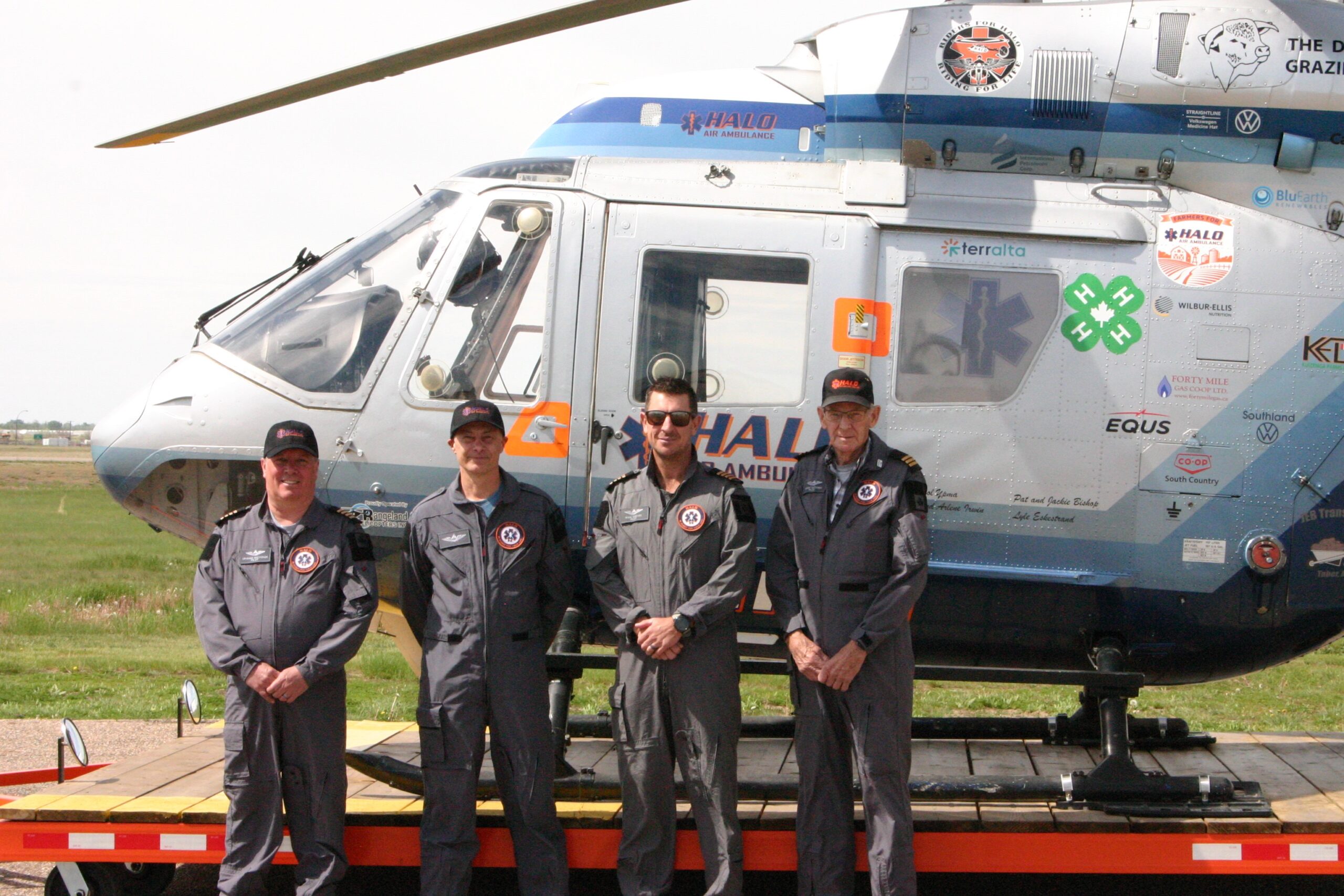 Photo by Samantha Johnson From left to right: Graham Mackenzie, Martin Bunn, Ryan Shrives and Grant Fletcher.
By Samantha Johnson
For HALO to remain in the air for daylight hours seven days a week requires four trained and experienced pilots, two for each opposing shift and both pilots on duty are in the helicopter for each flight. The four pilots currently flying for HALO have a wide breadth of experience.
Paul Carolan, CEO, explained, with the helicopter world being a small one, how recruitment for pilots is often through word of mouth. "HALO contracts our aviation partner, which is Rangeland Helicopters in Medicine Hat, and they take care of recruiting and training. We work with them as for the type of people we are looking for. They are responsible for ensuring the pilots are qualified at a Transport Canada level and for an aviation level for their operating program." With the extreme shortage of helicopter pilots in Canada, retention is worth more than recruitment.
Two pilots are on standby for 12 to 14 hours per day (depending on daylight availability) and remain at the hangar waiting for a call. Calls come into HALO through the STARS Emergency Link Centre (https://stars.ca/stars-emergency-link-centre/), a 24-hour emergency medical communications centre overseeing helicopter missions in Alberta and Saskatchewan.
When a call comes into HALO regarding a possible incident there is a planning and assessment process the pilots undertake to determine if they can accept the call. This process involves a weather check, determining where the incident is, and checking the range of the helicopter in terms of fuel to determine if they can make it to Calgary direct, if required, once patients are collected.
Two of the primary reasons why a call would be declined are due to inclement weather or if there are not enough daylight hours remaining. "Both weather and night (dark) have very specific measurements under Transport Canada regulations," said Carolan. While HALO is operational 12-14 hours a day in the summer months, this is reduced to 7-hours a day in the winter. However, HALO has secured night vision goggles such that they will be able to operate 12-14 hours a day all year long. Currently, they are working through Transport Canada approvals and training to be able to use them.
Captain Ryan Shrives, who is also the Training Captain, returned in 2019 to fly for HALO again. Shrives and his wife, who is a physician, had a baby and decided to come back to Medicine Hat for a more settled life.
Shrives is originally from South Africa and has been flying since 1999. He started in the military and did his training in the South African Air Force for 12 years. After leaving the military, he flew for the United Nations in Iraq and Somalia. Shrives and his wife moved to Canada in 2010, spending a year in Maidstone, SK before coming to Medicine Hat.
Shrives spent six months flying for HALO in 2016 but left when he was brought on for a speciality job on the West Coast out of Prince Rupert. The job involved "hoisting marine pilots onto a vessel coming into Canadian waters. It was a very niche market Canada was starting and I had the experience from previous military in South Africa operations," said Shrives. From there he flew for Helijet in Vancouver and then BC Air Ambulance before returning to Medicine Hat to fly for HALO.
"HALO flying is super rewarding, you feel like you're doing something with purpose, supporting the community as well as potentially saving lives," stated Shrives. While the job is fulfilling when he is in the air, the waiting around can be frustrating. However, Shrives pointed out that, "most of us are older in our careers and not chasing flight time and hours, which most of the young pilots of are doing. We have the experience and have been around and it's more about being at home and being happy."
Graham Mackenzie, Chief Pilot, was formerly a paramedic in Whistler, BC. "I thought it would be more fun to fly a helicopter than sit in the back (of an ambulance)," said Mackenzie. After obtaining his pilots licence in 1988, Mackenzie worked as a bush pilot, flew for air ambulance, then spent 20 years working offshore in SE Asia and Africa for oil and gas companies. He's been a pilot, manager, and owner, wearing all the hats. Mackenzie was in Malaysia working offshore in Borneo when all pilots flying the type of helicopter he was using were put out of work due to a catastrophic crash in Norway, which resulted in that type of helicopter being grounded.
Mackenzie and his wife moved back to Canada, settling in the Okanagan and he started working for HALO a year ago. He commutes to Medicine Hat for 2-4 weeks at a time. Mackenzie works opposite to Shrives, and they have a built-in buffer if there is a delay. "It's often the WestJet flight from Calgary to Medicine Hat (that delays him). I either takes the shuttle or rent a car. Once I had to do planes, trains and automobiles and it was a two-day affair. My wife drove me to Highway 1, I got a bus overnight through the Rockies, dire, and then the shuttle from Calgary," said Mackenzie.
First Officer Martin Bunn is a new recruit, starting with HALO on June 3rd. Originally from Norwich, England, Bunn got his pilot's licence about 20 years ago, flying privately before moving to commercial flights. He worked for the NHS as an advanced care paramedic and spent 11 years with East Anglian Air Ambulance, the one Prince William flew for but not at the same time as Bunn. Bunn moved to Canada 10 years ago and worked fixed wing air ambulance in Northern Alberta, and then for BC Air Ambulance. "Now I'm in Medicine Hat, fulfilling a lifelong passion to fly helicopters and work in the industry," said Bunn.
Grant Fletcher has been with HALO since they first started flying in 2007. "I worked for Rangeland Helicopters for six weeks before HALO started," said Fletcher. Fletcher flew lots of fixed wing and then got into flying alpine helicopters. He flew with Canadian Helicopters for about 18 years, which was mostly a winter job as he was farming as well. "I went back to farming and then the Rangeland job came up," explained Fletcher. "I live in Taber so it's pretty close. I never thought I'd get a job in Southern Alberta flying a helicopter."