Cypress County wants understanding and patience following destructive winds
Posted on July 27, 2022 by Ryan Dahlman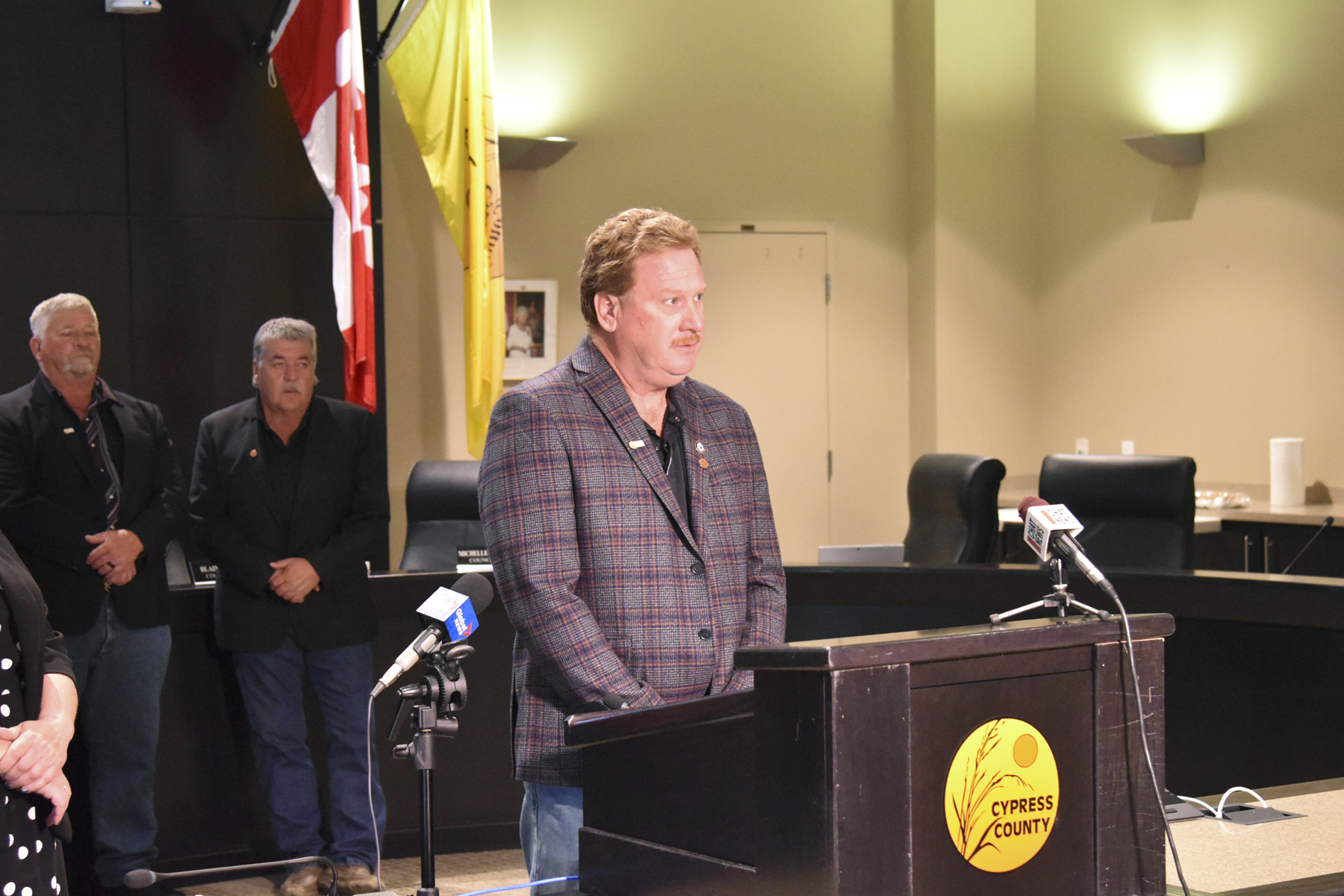 Cypress County Reeve Dan Hamilton addresses the press in regards to the July 18th wind event on July 19th. No less than 21 residences were in the hardest-hit area of the storm. Photo by Anna Smith
By Anna Smith
Cypress County calls for empathy for those affected by the recent event, and for people to avoid the area while families and the County focus on recovery.
"As you're aware, Cypress County experienced a storm yesterday with dangerous and damaging winds," said Reeve Dan Hamilton. "Our hearts are going out to families that lost their homes and have not yet got back into them." Several structures, including both homes and outbuildings, as well as vehicles, were lost as a result of the July 18 storm which caused extensive damage near Highway 523, also known as Holsom Road, said Hamilton in a press conference on the 19th. No less than 21 residences were in the hardest-hit area, but further damage can be seen further away, including on the north side of the river. 
Livestock has also been affected by the event, said CAO Tarolyn Aaserud, but fortunately there have been no deaths. 
"This wind event was devastating, devastating for those families, devastating for their community. And so we are focusing on recovery right now. And that is our focus and looking at mapping to see the extent of the area that was involved, how much livestock I am not aware of at the exact amount of the livestock but there was livestock lost in this wind event," said Aaserud. 
The community is focused on rebuilding and removing debris from the area, said Aaserud, with Cypress County providing assistance in solid waste management. 
"We have our transfer site, we're also bringing bins out for the affected area so they can put their waste there. Also were part of the Redcliff-Cypress regional landfill. So we are looking at we haven't we're in the process of looking at those individuals taking the solid waste debris to that facility," said Aaserud. "We have a partnership with the Red Cross, and there were 15 individuals that contacted the county to register, this was at the reception centre. And then we had three families that stayed in accommodations overnight." 
Affected residents are encouraged to get in touch with their insurance companies to begin those processes and determine if their homes are structurally sound and safe to return to. The 523 Highway is open, however the county asks that people stay away from the area out of respect for the devastating event for those living and working in the area. 
"The main thing is to support them and not go out and being looky-loos if someone, someone reaches out to you and needs a truck, to haul debris away, those type of things, but the the biggest thing is to stay away from the area and let those folks deal with the situation that they have," said Aaserud. Cypress County would like to extend their gratitude to all responders to this devastating event, and to the community at large as they rally around those experiencing loss due to the storm.