A very special service for Redcliff's St. Ambrose Anglican Church
Posted on September 8, 2022 by Ryan Dahlman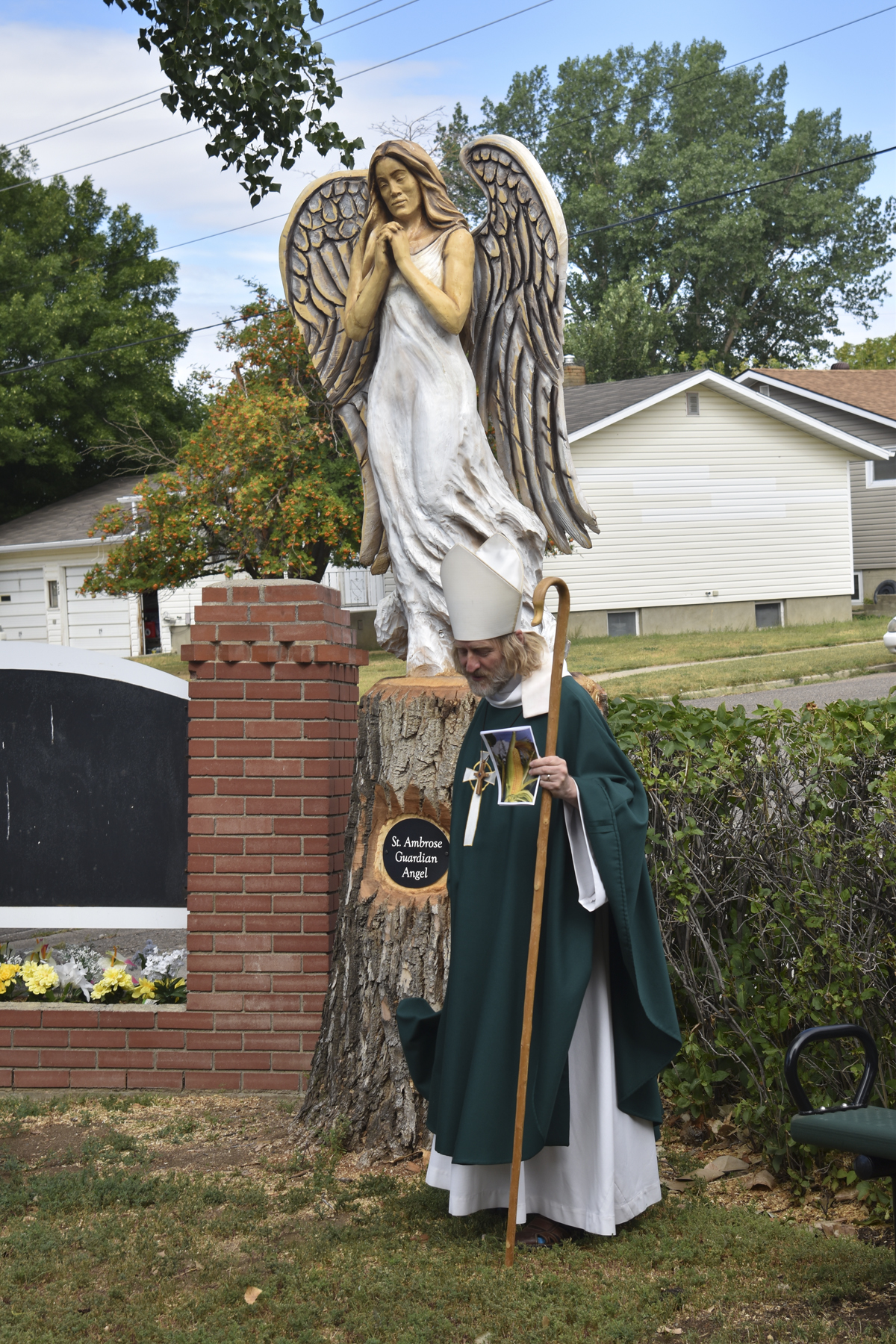 Archbishop Gregory Kerr-Wilson dedicates both the angel statue and the Memory Bench.
By Anna Smith
Commentator/Courier
Redcliff's St. Ambrose Anglican Church celebrated their Early Harvest Service with hot dogs, corn, and a new special guest to watch over them in the form of their very own Guardian Angel.
 The Archbishop of Calgary made a special appearance to take the service and dedicate both the angel, a chainsaw carving made by Irvine's Marina Cole, as well as a memory bench to longtime church member Roy Newnham.
The angel was made from a tree that once grew on the grounds, said Rev. Deacon Eldean Parnell.
"Last fall, we had a big tree there, and the stump is still there. But a piece fell out of the top, a big branch that broke off," said Parnell. "Luckily, it came down but there were no cars there. And you know, people there but we realized that we had to do something because the tree wasn't looking good."
When the tree was examined by a tree cutting outfit, it was revealed that wasps had made a nest in the upper boughs and hollowed out much of the trunk.
"The bottom part of the tree, like the last half of it, was good. So they cut that off, they said, and it was their suggestion. Why don't we get a chainsaw carving made out of the stump because it was a big healthy stump," said Parnell. "So we contacted Marina Cole from Chainsaw Spirit."
The angel now overlooks the front of the grounds, sitting beside the bench dedicated to Newnham, who was a beloved member of both the Church and the Redcliff Legion.
"We used to have a men's club, but we didn't have enough members to keep it going. So they turned their money over to the church and asked us to put in a memorial bench in memory of Roy Newnham, and he was a great supporter of the church and he'd been a lifelong member of the church as well as the Legion," said Parnell. "They brought the bench in and cemented it in and, and it already has the plaque in his memory. So we have the angel and a nice bench to sit there in the shade of the trees by the church. And they were both dedicated by our Archbishop on Sunday at our regional service."
Archbishop Gregory Kerr-Wilsonvisited from Calgary for the Regional Early Harvest, with members from several Anglican Churches in the area coming to the historic clinker-brick church in Redcliff for service and fellowship, as well as food.
"And this year, we added a sweets table we've never had before. But we thought while some people maybe would like a little piece of cake or something afterwards. So we're having a sweets table as well. So I think all in all, it's a very good day," said Parnell.