Dunmore Days was a major success
Posted on September 23, 2022 by Ryan Dahlman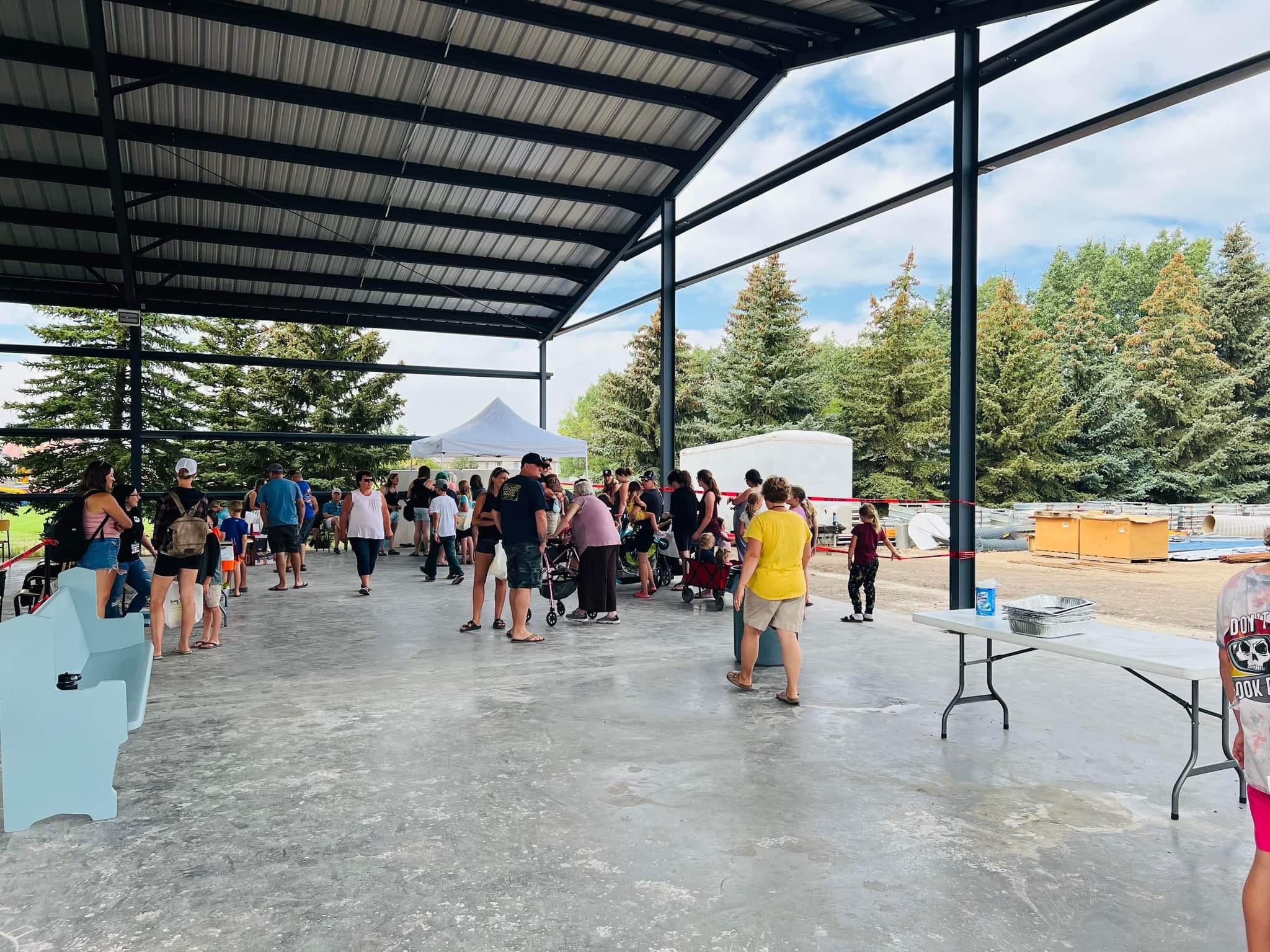 Folks gathered inside the partially-finished outdoor rink as a part of Dunmore Days.
By Anna Smith
Commentator/Courier 
Dunmore Days was a huge success this year, and the Dunmore Community Association is already discussing how the next year could be even better.
This year's event was phenomenal, said Jody Phillips, Secretary of the Dunmore Community association.
"For the pancake breakfast, we had just over 300 people, which more than doubled the amount we'd ever had previously," said Phillips. "We also had some Cypress County councillors. They came out and served breakfast to the community, and a real show of support for Dunmore Fays, and the activities that we're doing to sort of promote community wellness and togetherness. So we're very thankful for their participation."
This year was also the first year they were able to showcase the progress on the outdoor rink.
"We used the area for Dunmore days for serving food, and for the band and a dance that occurred that night," said Phillips. "So it's really exciting for people in the community to actually see the progress of the project, which has been blocked off for so long. So that was very exciting."
The dance held in the space was also a success, with approximately 175 people having come and gone over the course of the evening. The car show was rather popular this year, as well, with 38 cars in the show, prompting discussion of perhaps making the show more official in following years in response to the outpouring of support.
"The bike parade was also fantastic. This year, there were 36 kids that decorated their bikes and participated," said Phillips. "And they also did relay relay races for the kids that went over really well, there were over 40 kids who participated in that. And I think those were sort of the highlight events for the kids."
The committee had been planning on and off for the past six months, said Phillips, and they're already hard at work thinking about what they can take away from this year's event, though Phillips adds that nothing is set in stone quite yet, there are thoughts of having live music throughout the entire day, and possibly a small artisan's market.
"Dunmore Days is an annual event that allows our community to come together to foster relationships, it promotes volunteerism, and it gives our community a real sense of togetherness and ability to enjoy each other as neighbours," said Phillips.
The next major DCA event will be the Christmas Carolling and cooking decorating events, closer to the holidays.
"We're combining that into a food drive for the holidays. So we're going to have either horses and slaves or tractors that we're hiring to pull everyone around," said Phillips. "We'll have hot chocolate and bells for the kids and hopefully just have everyone singing the old carols and also it's a chance to reach people in our communities that aren't able to get out as easily in the winter. So they can enjoy it from the other side seeing everyone go by and listening to the singing and hopefully just be an all round fun community event."