Spooky fun to support HALO
Posted on October 20, 2022 by Ryan Dahlman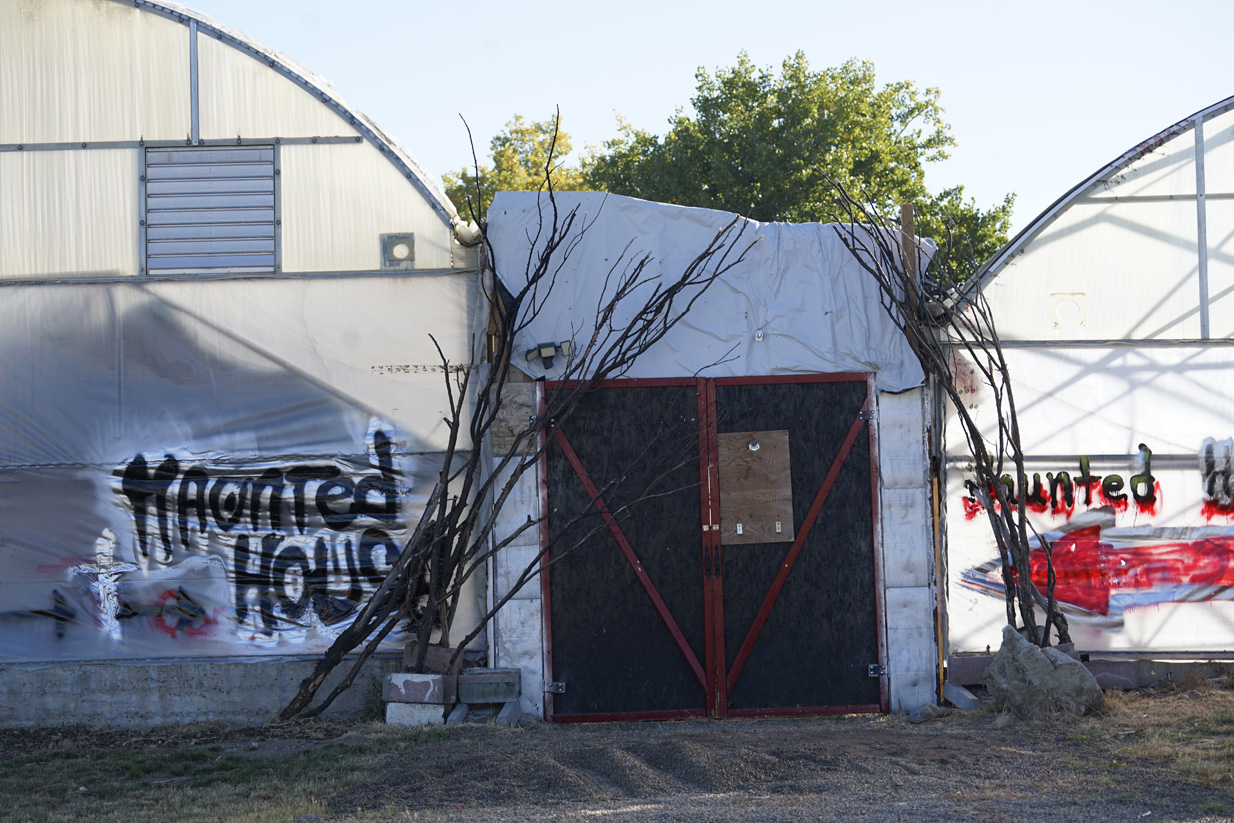 Photo by Samantha Johnson The entrance to the Haunted Greenhouse created by Kevin and Julie Lagasse located at 305 - 2 Street SW in Redcliff. Kevin and Julie own the greenhouse and have been operating the haunted version of it for the past three years and continue to change and expand it each year. 
By Samantha Johnson
Commentator/Courier
Kevin Lagasse loves Halloween and his passion translates into a haunted greenhouse he and his wife, Julie, have created in Redcliff. Now in it's third year, part of the proceeds are for HALO and another portion go to Prairie Gleaners, who allow their lot to be used for parking during the haunted house season. 
"I've always loved Halloween and I started at our house. My yard was so full I couldn't put anything else on there. So many people would come and I'd hide out in my gorilla costume, that's what I'm known for. I used to wear it at volleyball tournaments with my kids and everyone loved it. I'd do a little show with it and when I introduced it to Halloween, the kids were just amazed. I'd sit on a chair and be a fake gorilla and then jump out and have so much fun. The thing is, with the kids, the one's that are scared I can walk in front of them and protect them from all the scarers, I'll walk through with them slowly and make sure they don't get too scared and others who want to be scared get a good one." When Kevin was working on the rigs, he always made sure he was home for Halloween so he could go out with his kids. As a child, he and his siblings were always the last ones to come home with their big bag of candy. 
Originally, they partnered with the Redcliff Youth Centre but decided last year to start partnering with HALO. They own the greenhouse, which they bought as an investment after Kevin stopped working on the oil rigs. Their original plan for the greenhouse hasn't come to fruition but their yard was so full of Halloween stuff during October it made sense to start moving it over to the greenhouse and from there it continued to grow. 
I toured the greenhouse during the day and didn't get to see everything moving. If the item didn't come as an animatronic item, Kevin, who owns a roofing and restoration company, is handy enough to rig them up. Beds and bookshelves move, flames glow in fireplaces or are emitted from a dragon's mouths. There are several holograms as you walk through, dismembered bodies, and different themed rooms. The bathroom, bedroom, library, kitchen, and TV room, like walking through the haunted version of the board game Clue. Other themed rooms include the pirate room, séance room, witch room, crypt room, graveyard, dismembered body part room, zombie room, Maleficent/dragon room, scarecrow room, and the one I was glad to walk through during daylight, the spider room. Careful, one of them bolts out of a hiding spot? This one is a custom-made dual effort, Julie created the spider and Kevin rigged it up to move. Warning, it isn't small. 
This year the haunted fun expands to over 11,000 square feet. More rooms have been newly created this year. Their daughter, Courtney, is also heavily involved and several rooms are her brainchild. She created the room that has a ticket booth outside it, watch your step before entering as the walkway is a wooden slate bridge that moves under your feet. "She's a little more crazy than me (about Halloween) sometimes I think," said Kevin. Everything in this room glows and one of the figures blows smoke. Courtney also dresses up and will be a scarer in one of the rooms she created. There are other actors who dress up like inanimate beings, so it's hard to guess which is which. 
Brittany, their other daughter, usually works the front entrance and helps out with the setting up. 
Last year, with Covid on, they had to ensure they met Alberta Health regulations but still managed to raise close to $4,000 for HALO and $1,000 for Prairie Gleaners. The groups coming through are still spaced out and a loud bell rings whenever one enters so those inside who are acting know they need to get back into position for maximum scare tactics. The greenhouse averages 400 to 500 per evening, with a 1,000 coming through on the busier nights. 
"It's nice when it's not quite so busy as it gives people the opportunity to take their time and look at everything as long as they want and not get pushed through," said Julie. "We had people lined up from the doors all the way past the shop down the road," added Kevin. "We try to space it out, we have a big bell up front to let all the scarers know." The less busy it is, the longer the time period between bell rings, so not only does it let the scarers know the next group is coming, but it also lets patrons know as well.  "The only problem is you don't know how fast the group coming in or the one in front are going," said Julie. "Some really like to walk around and check everything out and there are others who are really scared and they run through," added Kevin. 
The Haunted Greenhouse opened on Saturday, October 15 at 6 p.m. and will be open seven days a week. From Sunday through Thursday times are 6 p.m. until 10 p.m. and Friday and Saturday 6 p.m. until 11 p.m. They are thinking about opening an hour earlier on Halloween night. Cost to enter the greenhouse is $10 for adults, $25 for families and $5 for kids. 100 free passes were handed out in the community by Kevin and Julie. The Haunted Greenhouse is located at 305-2 Street SW in Redcliff.