Cathy Hogg loves everything about Prairie Rose Public Schools, earns Platinum Jubilee Medal
Posted on October 26, 2022 by Ryan Dahlman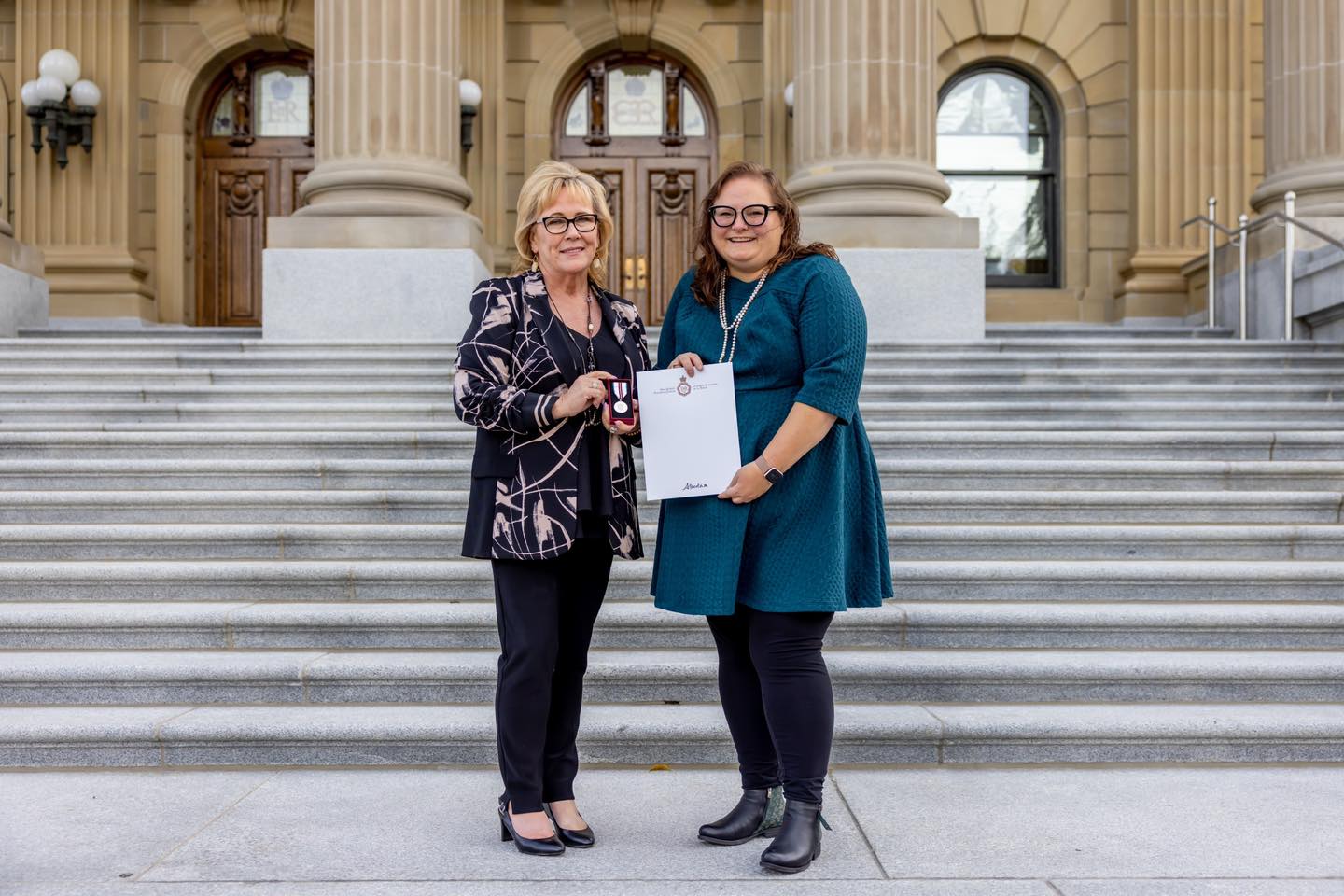 Sarah Hoffman presents Cathy Hogg (left) with her Jubilee Medal.
By Samantha Johnson
Cathy Hogg, Board Chair of Prairie Rose Public Schools, was recently awarded the Queen Elizabeth II's Platinum Jubilee Medal by Sarah Hoffman, Opposition Deputy Leader and Education Critic, on the steps of the Alberta Legislator in Edmonton. 
 "There are many times I've walked up those stairs at the Legislator to go advocate for kids. You don't do that work thinking there will be a reward at the end of this. You know the reward is bringing about positive change for our kids, that's the ultimate reward. To actually stand on those stairs and be recognized for that work, I get a little emotional, because it's an honour," stated Hogg. 
She was honoured to be nominated and never expected to win. "She (Hoffman) nominated me, and I accepted that and was humbled by the nomination and to receive the award was unbelievable to me. The night before I got the award, I had the pleasure of hearing the Lieutenant Governor (Salma Lakhani) speak at the PSBAA (Public School Boards' Association of Alberta) event."
Keeping her company on the trip were two fellow trustees, Lois Bedwell, board vice-chair at Prairie Rose, and Brian Callaghan, trustee vice-chair for Canadian Rockies Public Schools. Both were at PSBAA for the conference and decided to share the moment of receiving the medal with Hogg. 
"To be in the company of Nichole (Neubauer)," said Hogg, "who I have so much respect for. Maybe not as an educator in the formal sense of the word but absolutely an educator. Accepting this award is one of the most proud moments for me."
PSBAA is a provincial association. The Alberta School Boards Association includes separate, francophone, public and catholic boards and each also has their own association. Hogg was president of the PSBAA for four years and attended the evening as the past president and the rest of the conference as a trustee. 
The event included the PSBAA AGM along with some professional development. "We also had our Lois Hole Dinner. She was a public-school trustee in St. Albert and also past Lieutenant Governor. For many years, maybe 20, we've been having a Lois Hole Dinner. This year we had the (current) Lieutenant Governor address us. Last year we had former Education Minister, David King, come. We've had many wonderful people stand up and speak to us. At the end of the evening we can donate to the Lois Whole Hospital for Women," explained Hogg. 
Having chaired the provincial association for four years, Hogg fell into the role of chairing for the Prairie Rose Public Schools Board. "It's a different animal than the provincial thing but still the same. I love it. I love Prairie Rose, I love the people. It's just an amazing school division. Roger (Clarke) and Reagan (Weeks) turned out to be quite the team in bringing lots of new things to Prairie Rose. The sky was the limit and now Reagan has carried on with that. She's wonderful and has an amazing administrative team. We have amazing teachers and kids."
Prairie Rose Public Schools have lots of rural kids, with some from more urban centres such as Dunmore and Redcliff. They also provide teachers for the colony schools, which has been a wonderful arrangement. Hogg couldn't be prouder of the division. "We also have some alternative Mennonite schools as well. We are trying to meet kids where they are at and delivering the best education we can along with lots of choices."
Superintendent Weeks wanted to ensure the gap was being closed between what kids could get in an urban are versus rural schools and started Prairie Rose Possibilities, inviting teachers to discover their passion and/or what they wanted to champion. As a result, there are more choices at all the schools, which the kids and parents are loving. "That's good for the teachers too. When the teachers are loving what they are doing and seeing tangible results," said Hogg. 
"I've been a dog with a bone advocating for kids," concluded Hogg. "That kids not just here but everywhere have equitable access to learning opportunities. It's been a labour of love and it's been an honour and I'm going to continue to do that as long as I can."