Canadian GunHub owner says Bill C-21 unfairly targets law abiders
Posted on January 2, 2023 by Ryan Dahlman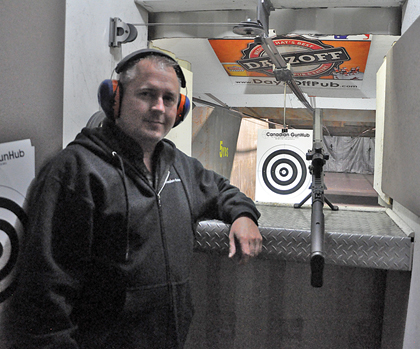 Rocky Rutledge
By Anna Smith
Commentator/Courier
Proposed amendments to Bill C-21 have many Albertans concerned, but especially those in the business of selling firearms and safe opportunities to try them.
The proposed changes are undoubtedly going to have an impact on business, noted Rocky Rutledge, the owner of Canadian GunHub, due to the large number of firearms that would become illegal to possess.
"Primarily what we do sell is semi-auto firearms, with capacities of over five rounds so it'll definitely hurt sales of firearms for that type that we mostly sell," said Rutledge. "We can also still branch out into the more traditional style of firearms to make up for those losses, but it's going to be more affected to the wholesalers and suppliers that only deal with those types of guns and have no other product lines. 
Gun manufacturers that make the sale of  the affected firearms will basically be shut down added Rutledge. He said these kinds of firearms are primarily used by hunters, trappers, and farmers protecting their livelihoods from pests such as coyotes and gophers. 
They aren't popular with sport shooters and as such, will disproportionately affect people who may require them for their livelihoods. Those firearms are more economical than traditional bolt actions.
One thin silver lining may be in the firing range side of his business, said Rutledge, depending on how exactly these firearms become illegal. 
Currently, in addition to the sale of firearms, Canadian GunHub offers a controlled and supervised environment to try out a variety of firearms safely. They happen for individuals, date nights, parties and corporate events.
"Currently, as far as handguns go, we still can't sell them, but we can buy them and rent them out on our shooting range. This falls under the same category where we combine them and use them on our shooting range," said Rutledge. "It would only boost the range side of our business. We would have them and be able to rent them out in a controlled safe environment. It would do nothing for our sales."
However, if the models become illegal in all uses, they will have to be removed from the range as well, diminishing what will be offered and further damaging the business.
"All around, it's going to be negative for the entire firearms community and the firearms industry. It's not gonna do anything for public safety," said Rutledge. "Criminals are getting guns across the border. They're gonna get guns, whether they like it and whether we like it or not anyways. The amount of money that it's going to cost will be in the billions of dollars from the federal government to go after legal gun owners who have no intention of ever hurting anybody."
The move could in fact reduce overall public gun safety, as less people feel motivated to go through with the process of getting the licence or taking safety classes such as the ones offered at the GunHub, something that was previously observed with the restriction of handguns.
"Some people are holding off on getting the gun licence at all, because they don't want to buy a traditional hunting rifle or pump shotgun. They want semi-autos for varmint control. If the (government wants to ban those things, there's no desire for somebody to want to buy it and it will affect the licensing; it'll affect our memberships for sure," said Rutledge. "There's piles of people in the city alone that want to buy guns for the shooting sports. They all require a semi auto or handgun. A lot of people participate in these sports, so they take away those guns and they can't participate. There's no point having that licence."
Rutledge hopes to see the semi-auto and magazine capacity points removed from the amendments, to "leave the hunters and the farmers in the sport shooters alone, and concentrate on the criminals."
"There's millions of guns all the way across Canada. If legal gun owners are the problem, you'd (already) know it," said Rutledge.