Barnes gives talk at Redcliff library
Posted on February 3, 2015 by 40 Mile Commentator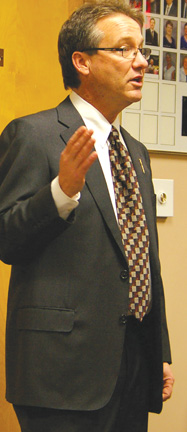 Commentator/Courier File Photo - Cypress/Medicine Hat MLA Drew Barnes put up a valiant fight, but lost the Wildrose Party leadership race to Brian Jean.
By Carlie Connolly
Drew Barnes, Wild Rose MLA for Cypress-Medicine Hat, addressed a large crowd at the Redcliff Library on Jan. 28. to talk about the current state of Alberta politics. Barnes covered a wide range of topics from government spending and accountability to healthcare, to the Sage Grouse issue affecting local farmers.
Economic realities and government spending provided the main theme for his comments. Flatly stating his opposition to a provincial sales tax and the creation of any new taxes, Barnes pointed out that while the low 'flat tax' income tax rate represents the lowest tax rate in the country, despite that, Albertans pay almost the most tax when all other forms of taxation are factored in.
"What is important to know is Albertans, even though we have the 10% flat tax which is the lowest tax rate in Canada, we pay the second most per capita taxes in all of Canada" said Barnes.
Pointing to all other parties in Alberta, Barnes indicated that Wild Rose was the only one opposed to all forms of tax increases.
Barnes said that the New Democrats and Liberals consistently stand up and want to raise royalties on oil companies, raise income taxes and talk about a sales tax as well. He pointed out that Jim Prentice has been talking about every kind of tax: sales, sugar, fuel and raising 10 percent flat to progressive tax."
Short on specifics of how Wild Rose might meet the current economic challenges in Alberta, Barnes was more clear on his views of how the Province got to this financial bind citing Mark Milke and the Fraser Institute report from 2013 'How Spending beyond Inflation + Population Growth Created Alberta's Red Ink'.
Consecutive years of over spending, deficits and Healthcare spending were among the points and then of course, the new 'Sunshine list' showing government political staffers earning more than 100,000 against a government that wants to cut wages for needed frontline workers. Wild Rose wants to see layers of management and bureaucrats reduced as a way to maintain the salaries and incentives for front-line workers.
Barnes also cites a report from the Macdonald-Laurier Institute from 2012 entitled 'Provincial Solvency and Federal Obligations' that states, "Alberta, despite its current net asset position, has the highest longer-term default probability."
Seven years of unbalanced budgets and a continual robbing of the Heritage Trust and Sustainability Fund together with increasing debt obligations cause Barnes to reflect on how worrisome things are now with the falling price of oil.
While Barnes did not make any firm announcement on the leadership of Wild Rose, he indicated that he is looking at it seriously and will continue talking with people before any decision prior to the May 6th cut-off date for the leadership race on June 6th. Following the defection of the recent nine who crossed the floor, including the leader, Barnes was optimistic about the 23,000 remaining party members as being totally rejuvenated with financial support for Wild Rose being the highest in their history.
"We're fairly prepared we have some pretty good money, we have a new president," he commented on the next provincial election.
With recent polls showing Wild Rose ahead in rural Alberta and only behind a few points in cities like Red Deer, Grand Prairie, Lethbridge and Medicine Hat, Barnes sees encouraging signs.
Democratic reform, land rights, encouraging youth involvement in the political process and the sage grouse issue were all touched on as well as his support to keep the Medicine Hat Diagnostic Laboratory but the key message remained the economy, government spending and lack of accountability.