Cliff Canter run puts best foot forward for health
Posted on June 9, 2015 by 40 Mile Commentator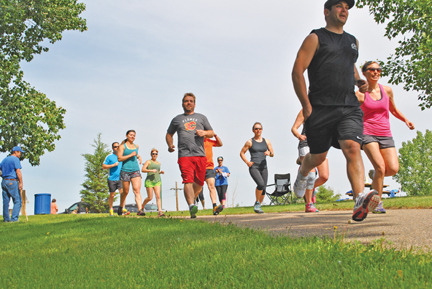 The ATA Local No. 2. Prairie Rose School Division hosted its first Cliff Canter Run on Sunday in Redcliff's beautiful River Valley Park.
By Tim Kalinowski
The first annual Cliff Canter Run took place in Redcliff's River Valley Park on Sunday morning under sunny skies and cool breezes.
The optional 3K or 5K walk/run was sponsored by ATA Local No.2 Prairie Rose School Division teachers from throughout Cypress County to raise awareness about the stigma facing those suffering with mental illness.
About 30 participants gathered beneath the shade of the poplar trees beside the park's group picnic area along the beautiful and picturesque banks of the South Saskatchewan River as the countdown toward the Cliff Canter Run began.
To get the runners off on the right foot, and to drive home the message about taking care of their mental health, Angelique Doyle from Medicine Hat's Laughter Yoga spoke about her own personal battle with depression and her determination to do something about it by getting involved in Laughter Yoga.
"Fake it to you make it," was how Doyle summarized the cascading effect laughter has on a person whether they feel like laughing at first or not. "Your body does not know the difference between a fake laugh and a real laugh. Some of you might start out faking it this morning, but I guarantee by the end you will be laughing for real."
Doyle then proceeded to lead runners through a series of fun exercises which indeed had them laughing loudly before she had finished.
All stretched out and loosened up, participants listened to a brief speech by Cliff Canter Run organizer Tanis Wendt about the importance of helping those suffering with mental health difficulties.
"As you walk or run today," said Wendt, "remember that each step symbolizes a step toward change and ending stigma. Let's change the fact that 24 per cent of all deaths among 15-24 year-olds are due to suicide… Let's be there for one another and be agents of change. And empower ourselves and others to speak for those who feel they do not have a voice."
Smiles on their faces, hearts on their sleeves, the runners set out down the trail under sunny skies; celebrating the joy of moving and just feeling alive.