Good crowds at Redcliff Days
Posted on June 23, 2015 by 40 Mile Commentator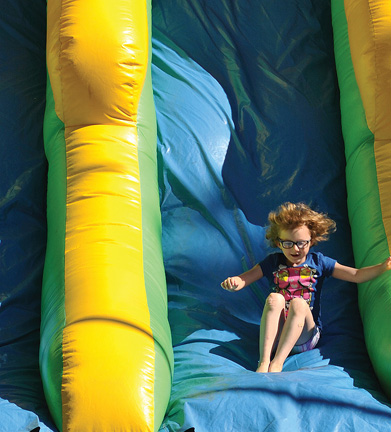 Kylie Ross was having fun on the big slide at Legion Memorial Park during Redcliff Days on Saturday.
By Tim Kalinowski
Redcliff Days enjoyed fabulous weather this year which brought out good crowds to take in the sights and sounds for the annual three day celebration.
Things officially got started on Friday night with the annual Mayor's Walk. But Saturday was the big day with the Lions hosting a fantastic Show and Shine at Lions Park. There were 167 entrants this year and people came out by the hundreds to see all the hot rides and timeless classics. The spray park was also a big highlight of the Lions Park festivities, especially as the temperatures climbed later in the day.
Meanwhile downtown on 3rd Street a grand bazaar filled the 000 block as about a dozen merchants took to the streets. A little further up the Legion Hall hosted a BBQ and a live musical concert by Redcliff's own Michelle Lavallee while the museum had Bill Dearborn doing his ever popular blacksmith demonstrations.
Down the road in Legion Memorial Park the crowd was treated to a kid zone play area with slides and bouncy castles. Parkside School beside it also hosted a kid-friendly obstacle course which saw everything from jousting with soft pads, a velcro jumping wall and colourful hamster ball races. The hamster ball races, in particular, looked like a lot of fun as moms and dads pushed around the over-sized balls with their kids inside.
All throughout town local shops did good business as the great weather packed in the crowds through the three days of the festival. Some enterprising local homeowners and organizations found ways to capitalize with rummage and garage sales also. And one house near Lions Park even featured a back yard beer gardens to provide refreshments for the thirsty Show and Shine attendees.
Overall it was a great weekend for Redcliff, and most who came out found something to keep them entertained.