Quonset Days a little bit country, a little bit rock and roll
Posted on July 21, 2015 by 40 Mile Commentator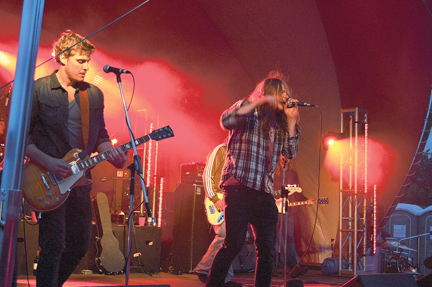 Erett Emmon of the Glorious Sons blew the lid off the place at Quonset Days 20
By Tim Kalinowski
Quonset Days was loud, it was fun and one big party from beginning to end.
There were initially concerns the weekend might be a washout as rain was in the forecast. It had rained heavily most of the day on Friday, but by 6 p.m. that evening, just prior to the live music getting started, the rain taps shut off and Quonset Days goers were ready to dance their butts off undeterred by the soggy ground.
Well known rock cover band The Chevelles got the evening rolling at about 7:30 p.m. At about 9 p.m. the night's feature entertainment The Glorious Sons, out of Kingston, Ontario, took to the stage. The band performed a phenomenal set and got the crowd up and dancing and fist pumping to the group's pulsing, pure rock tunes. The band's lead singer Brett Emmon put on a particularily dynamic performance and used his powerful voice to send the crowd into a frenzy of excitement. He did not cheat the adoring crowd either, coming back to play four fantastic encores.
On Saturday night it was the country performers' turn. After local band Phoenix opened the evening, country music star Jason Blaine landed in the marquis spot. Blaine is always an engaging performer with a knack for getting even non-country music listeners' toes tapping. He took Quonset Days home, leading the crowd into the ever fierce and fun live auction event late Saturday night.
The annual weekend of camping and music is hosted by the Biemans family out of Seven Persons, and raises money to support the ALS Society of Alberta. This year's total raised was*********.